Celebrating in 'high spirits'
Dehradun September 1
Boozing was an open affair in this year's victory procession of DAV PG College, where party supporters, whose candidates won different posts of the student council, were seen bringing crates of liquor and drinking openly in the college here today.

Drunkun students dance after tearing their shirts in a victory procession after the DAV College Student Council elections in Dehradun on Thursday; (right) It is party time as a group of supporters of a winning candidate transports a crate of liquor at DAV College in Dehradun on Thursday. Tribune photographs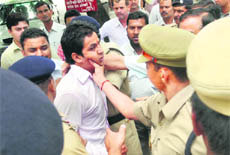 Brawl between DBS College students
Dehradun, September 1
Two groups of students of DBS PG College today clashed over an issue of college election, which held a few days ago. The police acting swiftly caught some of the students and later released them on personal bond.


Sanjay Jirwan, president of the DBS College Student Council, tackled by police officials in Dehradun on Thursday. A Tribune photograph

Manjeet wins president post in MPG College
Mussoorie, September 1
After a prolonged drought of more than five years in Mussoorie Post Graduate (MPG) College elections, the Akhil Bharitya Parishad (ABVP) has finally registered an emphatic win as their presidential candidate Manjeet Rawat defeated the nearest rival from the NSUI by a margin of around 66 votes in the polls held today. Rakesh Negi from Aryans, making made a dent in what was considered as the NSUI bastion, won the general secretary seat with huge margin.
Doon Hospital
Operation table system develops snag again
Dehradun, September 1
The system of operation table used for performing general surgeries at Doon Hospital has developed a snag, as a result surgeries listed for today could not be performed.
No clue to escaped prisoners
Dehradun, September 1
The two prisoners who escaped from the Suddhowala jail on Tuesday could not be arrested even on Thursday.
35 illegal rehris removed
Dehradun, September 1
On the first day of its drive of removing illegal vendors from various areas of the state capital, the team of the Dehradun Municipal Corporation (DMC) today removed 35 rehris and three sugarcane juice vendors. They also removed two temporary structures during the drive.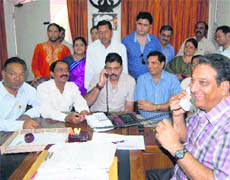 Mayor opens complaint redressal centre
Dehradun, September 1
Dehradun Mayor Vinod Chamoli today inaugurated the complaint redressal centre on the municipal corporation's (DMC) premises. The residents will now be able to lodge all the complaints at a toll free number 18001804153 from 10 am to 5 pm.



Mayor Vinod Chamoli at the launch of a toll-free grievance service at the Municipal Corporation in Dehradun on Thursday. A Tribune photograph

Students should learn to organise: Expert
Dehradun, September 1
Max Healthcare Institute conducted an innovative workshop Pro Social Peer Moderator Programme 2011 at Welham Girls' School today.
Ganesh Chaturthi, Id celebrated at school
Dehradun, September 1
The students of Delhi Public School celebrated Ganesh Chaturthi and Id with enthusiasm on the premises of the school here. The participating students exhibited a unique performance of unity and brotherhood on the stage.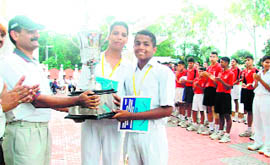 Chandragupta RIMC swimming champion
Dehradun, September 1
Chandragupta got 598 points to bag the overall championship of the Inter-Section swimming that concluded at the Rashtriya Indian Military College (RIMC) today.


Col PK Kumaria, Commandant, RIMC, presents the inter- house swimming championship trophy to the winners in Dehradun on Thursday. A Tribune photograph

Dogra battalion celebrates raising day
Dehradun, September 1
The 153 Infantry Battalion (Territorial Army) Dogra celebrated its eleventh raising day at the Indian Military Academy here today.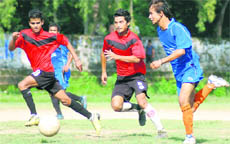 Sunderwala Boys, U'khand Police win
Dehradun, September 1
Harish fashioned the 1-0 win of Sunderwala Boys over Vijay Cantt in a super league match of the district football league held at the Pavilion ground here today.


A match between Vijay Cantt (in blue) and Sunderwala Boys (in red) in the Lala Nemi Dass Memorial District Football League played at the Pavilion Ground in Dehradun on Thursday. A Tribune photograph

Presidency School victorious
Dehradun, September 1
Presidency School defeated Raja Ram Mohan Roy Academy 2-0 in the Senior Council Football Tournament played at St Joseph's Academy here today.