Staff shortage stares at civil hospital
Rise in city population notwithstanding, the hospital is functioning with the staff strength fixed for it over 35 years ago
Sushil Goyal
Tribune News Service
Bathinda, February 1
The local Civil Hospital is running at the staff strength that was fixed by the state health department over 35 years ago.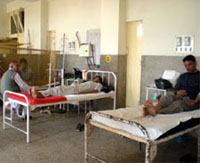 Patients recuperate at a ward in the Civil Hospital. A Tribune file photograph
Over the period, the population of the city and its periphery has increased manifold but the number of doctors, paramedical staff and other employees at the hospital remains the same. Then, the staff strength was in accordance with the number of patients and beds (100) at the hospital.
However, on many occasions the hospital authorities have to manage with nearly 175 beds in the hospital to cater to the heavy rush of patients. The authorities want the up-gradation of the hospital to a 200-bed unit.
According to information available, the hospital has 18 doctors and 22 staff nurses against the sanctioned strength of 29 staff nurses. Besides, the hospital has 33 class IV employees and 22 safai sewaks. The hospital authorities say that it is difficult for them to run the hospital in a proper manner with the given staff strength.
According to an official in the health department, the hospital requires at least 30 medical officers (instead of 18) as they have to do various works, including duties related to post-mortem, VIPs, jails, court evidence, blood donation camps and on-call duty besides attending to the out-patient deparment (OPD) and emergency ward as emergency medical officer (EMO).
Out of the 29 posts of staff nurse, seven are vacant nowadays. Besides, four staff nurses have been performing duties in the operation theatre, one at the blood bank and one at the dialysis unit. One of the staff nurse is reportedly absent from duty while another was on maternity leave.
Thus, out of total 29, only 14 staff nurses have been performing duties in the medical, surgery, special, eye, ENT, orthopaedic and emergency wards these days.
The hospital authorities say that since they have shift duties in the wards, at least 30 staff nurses are required for the smooth functioning of wards.
There are 33 class IV employees in the hospital but due to heavy work there is requirement of at least 70 such employees.
A doctor said: "In every OPD, one class IV employee is required. So, there should be 20 class IV employees for the purpose. Besides, due to shift duties in the hospital wards, at least five class IV employees are required for every ward like surgical, medical, special and emergency."
Sometimes, the patients complain that they don't find a doctor in OPD when they go there to get themselves examined.
However, an official at the Civil Hospital countered that on several occasions, doctors had to go to perform VIP duty, post-mortem duty, or any other such duty.