complaint centre wound up
Max poll complaints from Bathinda (Urban) segment, lowest from Maur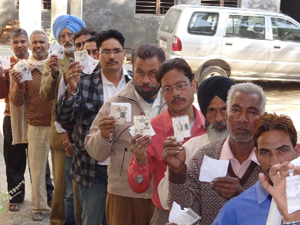 Bathinda, February 2
The district election complaint cell, meant for lodging complaints regarding violation of model code of conduct, has been wound up. Since the implementation of the model code of conduct, the cell had been functioning round-the-clock at the Mini-secretariat here to receive the complaints from the people through various sources, like internet, telephone etc.
Though the elections are over, complaints regarding violation of model code of conduct will be accepted till March 9.

City NGO to start eye donation Awareness drive
Calls upon people to sign pledge forms to donate their eyes
Bathinda, February 2
To create awareness among the masses about eye donation and make eye donation a mass movement, a city-based NGO, Bathinda Vikas Manch, will observe 'Eye Donation Awareness Week' starting February 5 in the city.


Crying for upkeep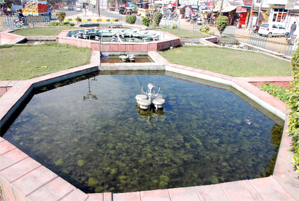 The fountain at the Bibi Wala Chowk round-about paints a picture of government apathy. Algae has grown in the stagnant water of the fountain pond which has been lying in a state of utter neglect, What could have been of interest to the passers-by now stands as an eyesore instead of adding to the beauty of the round-about. Tribune photo: pawan sharma

CUP to commemorate World Cancer Day
Bathinda, February 2
A special lecture on "Radiations in Health Care – Atoms for Peace" is being organised by the Central University of Punjab at its city campus, Mansa Road, Bathinda on Friday to mark the occasion of "World Cancer Day".
Excellence award for NFL director
Bathinda, February 2
Neeru Abrol, director (finance) of the National Fertilizers Limited (NFL), has been awarded the Outstanding Woman Manager award in the category of Public Sector Enterprises at the SCOPE Excellence Awards 2009-10.
HIC's mock test on Feb 12
Bathinda, February 2
Harbhajan institute of Competition, Bathinda has scheduled its mock test on February 12 for students appearing for heir class 10 examinations.
Quality checker course inaugurated at VIMT
Bathinda, February 2
The 'Smart Quality Checker' skill camp at the Vivekanand Institute of Management and Technology was inaugurated by Dr SS Gill here today.
Merchant Navy pre-sea training: 18 GZS students selected
Bathinda, February 2
Eighteen students from Giani Zail Singh Bathinda campus of Punjab Technical University have been selected for the pre-sea training programme to join as trainee marine engineer in Merchant Navy.
Year-old girl among three dead as car rams into Army vehicle
Bathinda, February 2
Three persons were killed in an accident that took place on the Bathinda-Malout road at around 2 pm here today. The deceased included an infant and a woman.
One killed in road mishap
Bathinda, February 2
One person was killed while another was seriously injured in separate mishaps.
Cloudy conditions; mercury shoots northwards
Bathinda, February 2
The effect of partial cloudiness was palpable today almost throughout the day as sun kept on playing hide and seek besides the minimum temperature also shot up.
Dept starts receiving postal ballots
Bathinda, February 2
The postal ballot papers sent to the voters of Bathinda, presently posted in different parts of the country, have started returning.
TB awareness workshop held in Janta Nagar
Bathinda, February 2
Under the revised national tuberculosis control programme (RNTCP), a TB awareness workshop was organised in the government dispensary of Janta Nagar here. Gagan Goyal, communication facilitator, Punjab Health Society, addressed the workshop.
Army man booked for getting job on fake certificate
Bathinda, February 2
Raj Jaswinder Singh, a resident of Guru Gobind Singh Nagar here, has been booked for getting his job with the Commandant, First India Reserve Battalion, on the basis of a fake certificate.