Training must to equip teachers, parents of special children
Amritsar, February 18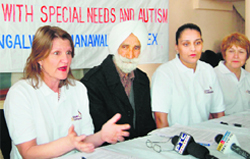 The experts and volunteers of UK-based NGO, Hope and Compassion, expressed that there is need to train teachers and parents of special children. The experts are working with All-India Pingalwara Charitable Society here for past more than four years.




Dr Karen Guldberg, director Autism Centre, Birmingham, UK, addresses a press conference in Amritsar on Saturday. Photo: Vishal Kumar

Students visit ITBP centre
Amritsar, February 18
Students of Ryan International School took toured the training facility of the Indo-Tibet Border Police (ITBP) here. The visit wasaimed to inculcate values of patriotism.
Pending grant from PIDB starves AMC projects
Amritsar, February 18
The deteriorating financial condition of the Amritsar Municipal Corporation (AMC) may take a toll on its ongoing development projects. Reason: the AMC has not yet receives its due share of the grant from the Punjab Infrastructure Development Board (PIDB).
'Pay heed to demand to widen killer road'
Amritsar, February 18
The President of India's Secretariat has directed the Department of Road Transport and Highways to pay attention to the request of the Focal Point Industries Association, Amritsar, to widen the 20-km long stretch of the road' on the Jalandhar-Amritsar highway. Association president DS Goraya said the acknowledgment of the request from the President Pratibha Patil was received today. He said the two-lane stretch on NH-1, which falls between Dhilwan to Jalandhar Bye-pass, had snuffed many precious lives in road accidents. Besides, roads connecting the stretch from both ends were of four and six lanes.
Rickshaw rally against polio kicks off
Amritsar, February 18
A polio awareness rickshaw rally was flagged off by the local civil surgeon Dr Manjit Singh Randhawa here today.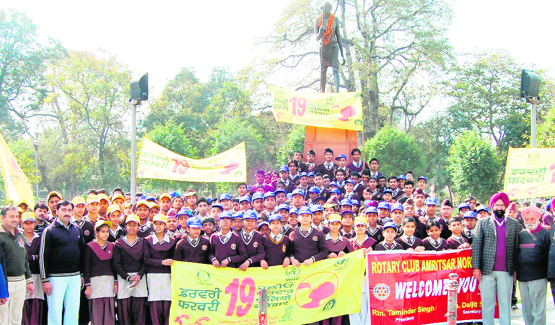 Students take out a rally to spread awareness against polio in Amritsar on Saturday. Photo: Sameer Sehgal

Health dept to act tough against sale of habit-forming drugs
Amritsar, February 18
Those found in possession of habit-forming drugs will face strict action, Civil Surgeon Manjit Singh Randhawa said in a meeting with the representatives of the local chemists' association today. "No political umbrellas will help people selling habit-forming drugs in the city," he claimed.
Residents seek better connectivity
Amritsar, February 18
Ahead of the railway budget, residents of the border town are voicing their demands for connectivity with the Malwa region of the state, shortening of train distance on the busy Amritsar-Mumbai route and revival of the Amritsar-Kalka route as well.
Modern poetry lacks emotion, says Sufi poet
Amritsar, February 18
Sufi poet Bakhtawar, while holding a discussion on the relevance and understanding of lyrical poetry in the contemporary time at Virsa Vihar, said today's poetry has lost the charm.
Mega lok adalat on February 25
Amritsar, February 18
The district legal services authority will organise a mega Lok Adalat at the district courts complex and divisional courts on February 25. At a press conference held today, District and Sessions Judge-cum-Chairman, District Legal Services Authority, HS Madaan said, "People can request their cases of civil nature for hearing." He said 19 benches will be constituted for the same. He said cases at the pre-litigation stage can also be heard. Various banks and other institutions have requested the judiciary for amicably solving of the cases at the pre-litigation stage, said Madaan.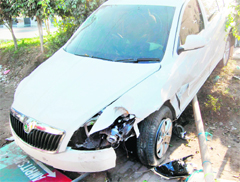 Teen critically hurt in mishap
Amritsar, February 18
A 17-year old boy was critically injured when a speeding car hit him near Kichlu Chowk here in the afternoon today. The victim has been identified as Parminder Pal Singh, a student of Delhi Public School here. He was going towards the Mall road, while the car was coming from a road adjoining Eminent Mall located on Mall Road.


The damaged car which hit the students in Amritsar on Saturday. Photo: Vishal Kumar

Jail inmate dies in hospital
Amritsar, February 18
Narinder Pal, a jail inmate, who was admitted to the Civil Hospital on February 16, died last night.
Five eating hot spots raided
Amritsar, February 18
The authorities took 15 samples of eatables and seized 19 domestic LPG cylinders allegedly being misused commercially from five well-known food joints of the city.