Traffic chaos is order of the day
Manmeet Singh Gill
Tribune News Service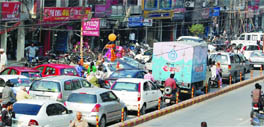 Vehicles move at a snail's pace on the road.
Amritsar, February 19
The private contractor, who got the multi-storied parking lot in Nehru shopping complex on the Lawrence Road on a lease, ran away just two months after getting the contract. These two months made him learn that managing this parking lot is not a profitable business.
The famous hangout place - Lawrence Road - is a place where just chaos prevails. With residents developing a habit of not using spacious parking lots, the roadsides turn into parking spaces till the shops remain open at night.
The four-storied parking remains nearly empty. Vehicles parked on the roadsides become a reason for traffic blockade on the entire stretch of Lawrence Road and even beyond.
In most of the market blocks of the newer and posh Ranjit Avenue, spacious parking areas are available. But residents it seems do mind parking their vehicles on designated spots.
Yogita Khanna, a student said, "Most residents park their cars anywhere they like. It is because nobody ever questions them. It hampers traffic movement."
The Mall Road where there are showrooms of the elite brands too is not free from this chaos. Though few of the shopping complexes have underground parking areas, visitors are fond of the roadsides when parking their vehicles is concerned.
Sankit Malhotra, a commuter said, "People can buy Rs 15 lakh car, but they do not want to spend Rs 20-30 on parking tickets."
Residents said the traffic police should see that people don't park anywhere and everywhere.
The problem of roadside parking is more severe in areas along the GT Road.
A senior citizen, Gurdial Singh, commented, "The situation will not change, until and unless traffic police issues challans for wrong parking." To add to the problem of parking, hundreds of auto-rickshaws in the city also do not have designated places for pick and drop passengers.
ACP (traffic) Karanjit Singh said two policemen are deputed on the Lawrence Road to regulate traffic. The traffic pollice also challans violators.