Price of guar seeds at all-time high
Sirsa, February 20
Owing to increasing demand in the export market, the price of guar seeds has escalated meteorically bringing cheers among the farmers here. The price of guar seed, which hovered between Rs 1,800 and Rs 3,100 per quintal last season, witnessed a hike and started from Rs 4,000 per quintal in the beginning of harvesting season in November last year.
Police station turns junkyard
Ambala, February 20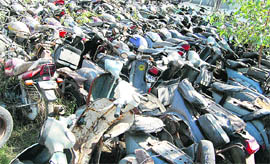 Hundreds of two-wheelers and dozens of vehicles have been lying in the open for long at the Old Sadar police station in Ambala City.

The impounded two-wheelers lying in the open at the Old Sadar Police Station in Ambala City.Photo by writer

Insure crops, CM tells farmers
Chandigarh, February 20
Chief Minister Bhupinder Singh Hooda has said the farmers should get their crops insured so that crop loss due to natural calamities could be compensated.