Jammu University clash
Students, staff stage protests
Jammu, March 14
A day after a clash broke out between students and employees of the University of Jammu, the two sides registered protests to press upon the administration to accept their demands.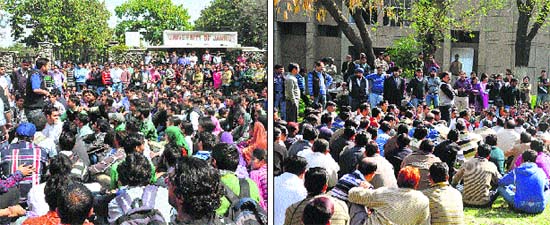 Students block a road outside the main gate; and (right) members of the non-teaching staff stage a dharna outside the Vice-Chancellor's office in the University of Jammu on Wednesday. Tribune photos: Anand Sharma
Rajouri Unrest
BJP leader among 17 held for defying prohibitory orders
Jammu, March 14
At a time when normalcy had just started returning to the communally sensitive Rajouri town, at least 17 activists of the Sanatan Dharam Sabha, including a veteran BJP leader, were arrested today for defying prohibitory orders.
914 policemen got out-of-turn promotions in 10 years
Jammu, March 14
Credibility has been a casualty in the Jammu and Kashmir Police. While several police officers have held their posts for a period ranging between five and 10 years, at least 914 personnel have been granted out-of-turn promotions during the last one decade.
Council admits privilege motion against PDP MLC
Jammu March 14
The Chairman of the state Legislative Council, Amrit Malhotra, has admitted a privilege motion moved by National Conference MLC Devender Singh Rana against the conduct of Peoples Democratic Party MLC Murtaza Khan in the House.
Modalities for ferry, radio taxi services discussed
Srinagar, March 14
The Divisional Commissioner, Kashmir, Asgar Hassan Samoon, yesterday convened meetings to discuss the modalities for starting a ferry service on the Jhelum, besides a radio taxi service in the city.


IAF airlifts 342 stranded passengers to Leh
Jammu, March 14
Yet again lending a helping hand to people in distress, the Indian Air Force (IAF) today pressed into service its flying machines ferrying 342 stranded passengers to Leh in the Ladakh region.
Passengers bound for Leh queue up to board an IL-76 of the IAF in Jammu on Wednesday.
A Tribune photograph
151 officials facing graft charges in state
Jammu, March 14
Chief Minister Omar Abdullah today said at least 151 serving as well as retired government officials in the state were facing corruption cases in the State Vigilance Organisation.
Sangad village sans water for 15 days
Katra, March 14
Residents of Sangad village of Pouni block in Reasi district have been without water for the last 15 days. Sangad, which has a total population of 700, is suffering because of the negligence of Public Health Engineering (PHE) workers deputed in the village.


Colours of joy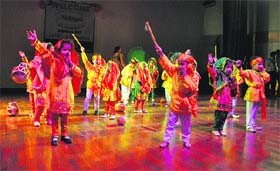 Students perform a dance during the annual day function of Nightingale Pre-School in Jammu on Wednesday. Tribune photo: Anand Sharma
2 HC judges call on Governor
Jammu, March 14
Justice Virender Singh and Justice Mansoor Ahmad Mir of the Jammu and Kashmir High Court met Governor NN Vohra at Raj Bhavan this evening. They discussed issues relating to the beneficial services being rendered by the J&K High Court Legal Services Committee.
Health camp for Badheri residents
Jammu, March 14
As part of the ongoing development activities under the aegis of Gurj Division in Samba district, 168 Infantry Brigade inaugurated a community hall and organised a medical camp at Badheri village yesterday.
Ex-Home Secy meets Governor
Jammu, March 14
Former Union Home Secretary VK Duggal met Governor NN Vohra at Raj Bhawan here today. During their hour-long meeting, NN Vohra and Duggal held wide-ranging discussions on various important issues relating to internal security.
Transporters seek white paper on JAKFED
Jammu, March 14
The Joint Action Committee of Transporters yesterday sought the intervention of the Chief Minister to streamline the working of JAKFED, which they alleged had lost its credibility because of frequent scams.


Book on raga released
Jammu, March 14
Savita Bakshi's book "Raga and music in Sikh holy scriptures" was released here today. The function was attended by Legislative Council Deputy Chairman MY Taing, media adviser Farooq Nazki, Dean (Academics), University of Jammu, Prof RD Sharma, among others.

Savita Bakshi's book "Raga and music in Sikh holy scriptures" being released in Jammu.
A Tribune photo
Probe sought into Health Dept's working
Jammu, March 14
The National Secular Forum has demanded a probe into the alleged mismanagement in the Department of Health, while seeking Chief Minister Omar Abdullah's intervention in the issue.