School gardenerís son hits a perfect 10
Aparna Banerji
Tribune News Service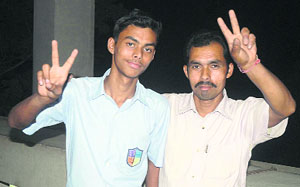 Ratan Ravat with his father Arjun Ravat after getting the CGPA 10 in the recently declared CBSE Class X results. Photo: Sarabjit Singh

Jalandhar, May 25
The joy of Arjun Ravat and Asha Ravat knows no bounds as their son has made it big yet again in his final exams results. Arjun beams with joy as his talented son has yet again hit the top spot.
While his classmates come from relatively better-off backgrounds, the going hasnít been as easy for Arjunís son Ratan Ravat, who just got the perfect 10 on the CGPA in the recently declared CBSE results.
A gardener by profession, Arjun Ravat, has two sons and one daughter and lives in a one-room accommodation at Beant Nagar, but he has always taught his children to dream big.
His sonís Ratanís story is proof that perseverance always pays off for those who believe in working hard.
The three children of Arjun Ravat never got things on a platter.
Ravat says, ďIím so happy that Ratan has made it big. I have seen him studying night after night, for hours, dreaming of fighting off the financial shackles that he was born with.Ē
Their little bed (that was in fact borrowed by Ravat from one of their previous employers), has served both as bed and study table for the three siblings who have shared that little space to study for exams.
Ratanís got a perfect 10, but unlike his counterparts, he has always studied with borrowed books.
ďSince we canít afford new books, my children have always borrowed books from other children. In case they didnít find any, I have gone and hunted for secondhand books at the Mai Hiran Gate market.Ē
In fact even as he harbours dreams that Rattan may make it big in the IAS someday, he also is worried whether he will be able to fund his IAS studies with his present income.
But even with the worries and the limited resources, Ratanís grit has been unparalleled. ďWhen I see my parents squeezing money to make our dreams come true, it inspires me to study harder.Ē
And that is exactly what he has done.
Ratan has always been a position holder in school. He also got good positions in Class V, VI, VII and VIII.
Currently a gardener in the school where his son studies, he is also thankful to school Principal Rashmi Vij for her constant support.
The bright, petite Ratan presently thinks of the IAS and NDA as his career. He has also given a thought to being a pilot, something he was fond of since childhood.
Taking up the non-medical stream for his plus one studies, he hopes it is just the beginning of a brighter future.