Lack of furniture in schools poses threat to students' safety
Aparna Banerji
Tribune News Service
Jalandhar, May 15
The recent death of a 10-year-old student at Government Elementary School in Basti Ibrahim Khan village due to insect bite brought embarrassment for the Education Department, but the lessons are yet to be learnt.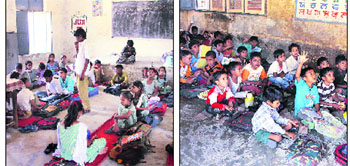 Students of Government Elementary School, Kot Sadiq; and (right) students of Government Elementary School, Kishanpura, sit on the floor as they attend classes. Photos: Sarabjit Singh
On Thursday afternoon, 10-year-old Sonalika and one of her friends was out in the playground of Government Elementary School, Basti Ibrahim Khan, when Sonalika said an insect had bitten her. Sonalika, who was studying in Class IV, went inside and sat in the classroom and complained of severe pain. School teachers soon informed her parents, who then took her home. Sonalika died that very day.
Even as bushes or unkempt grass are one of the reasons for such fatalities, an acute shortage of furniture in majority of district schools is also one of the key factors threatening the safety of children.
The strength of schools is on the rise, but no arrangements have been made to ensure the regular repair or upgrade of furniture in them.
In the majority of schools that The Tribune visited, teachers said what usually happens is that BOs come inquiring about the furniture problem, take notes and go away. But even as months and years pass, the issue stays unaddressed.
State of schools
At Government Elementary School, Kishanpura, 360 children study, but about 150 have to sit on the floor. There are five classes (divided in 10 sections) and 10 teachers to teach them. Only students of three classes get to sit on benches because there are none for the rest.
Staff members at the school say that last year they brought rugs for children to sit on, but those, too, are torn now. Even as it is time to buy new rugs (for which they don't have money), the furniture still hasn't arrived.
The Government Elementary School Kot Sadiq has 212 students. All of them sit on the floor. The school never had furniture to seat children and despite repeated applications to the BO, no heed was paid to the the request.
Both these schools are situated in areas where inundation during rains is normal. While the Kishanpura school is a pucca school, construction material and mud mounds on the school premises pose a threat of insects to children.
The Kot Sadiq school, on the other hand, is situated right on a mud road and the school premises has plenty of grass growing on it.
The insect threat
Staff members say, "Incidents like the one at the Basti Ibrahim Khan school bring fear in our minds. Teachers do not have control on insects. Children play around, sit on the floor, if they are bitten by one, we will be blamed. At that time, no one will take into account our applications to the Education Department. It is just the God that we rely on, because the department sure doesn't listen."
Some other schools, which reportedly face shortage (and in some cases absence) of furniture, are Government Primary School, Basti Danishmandan (girls), Government Girls Primary School, Basti Mithu, and Government Primary School, Nahal.
Notably, even as the problem is more severe in primary schools, in the recent years the state of senior secondary schools is also getting bad because the existing furniture is not being upgraded even after it becomes unusable and the number of students is also on the rise.
official speak
"There is certainly a shortage of furniture and we are looking into the issue. The RMSA gets its funds from the Centre and the funds, for furniture, haven't been adequate. We recently asked all schools to send in their demands regarding furniture and almost all schools have sent in demands. Though schools where the problem is very acute, are few."
— Neelam Kumari, DEO (Secondary)
"So far, the SSA has not earmarked any furniture for any of the schools under it since there is no scheme under which it can do that. So, even data regarding this is not readily available."
— Ravinder Singh, District Coordinator, SSA
"There are 262 schools in the district with 9th and 10th classes. More than 100 of these schools have reported a shortage of furniture." — Jatinder Kumar, District Coordinator, RMSA