Haphazard development, broken roads, wild growth, residents feel insecure
Aparna Banerji
Tribune News Service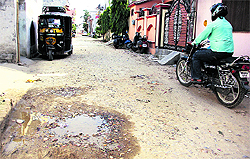 The broken road between Ward Numbers 11 and 13 in Jalandhar. Photo: Sarabjit Singh

Jalandhar, May 16
Overgrown weeds, bad roads, haphazard development, power cuts and water woes are the problems being faced by residents of Ward Number 11.
In the midst of developed areas are rough patches which have been left out for unknown reasons. Many localities in the ward like Bhullar Colony, Ganesh Nagar and Armaan Nagar and the road from Dhilwan to Nagal Shama have been left undeveloped.
The Sainik Vihar Gali No 5 residents are sour. A street cutting across Ward Numbers 11 and 13 has not been developed since long due to confusion over jurisdictions by respective councillors.
Mohan Lal, a resident of the area says: "Some roads, where the plots are still lying vacant, have been given special treatment, but our street where construction of houses is almost over, has been ignored. It has probably been done to hike the land rates. The area turns into a cesspool." The area also has a single-phase power line leading to power fluctuation, especially during summer, he added.
Residents of Ganesh Nagar are not happy either. They say the roads in their locality are in a deplorable condition. Back on the main road, a huge chunk of empty land is a pain for residents. Though a slum on the land was removed, its ghosts still haunt residents.
Resident of the locality Kirpal Singh Sandhu says: "Water accumulates in the area during rain. Gujjars, who have kept cattle, leave their animals to roam in the residential areas. The stench here is unbearable. It is also difficult to pass by the area as jhuggi dwellers are always seen sitting there. The area is also den of criminals and drug addicts. Wild growth of cannabis also invite addicts."
Almost all houses in this have installed booster pumps as the water pressure is too low, say residents.
Happier side
In the developed areas of the ward, residents are relatively happy and say they have no problems. The sitting councillor is also credited with laying sewerage lines in the ward.
Amount spent
Councillor Balbir Singh says the MC has spent over Rs 3 crore in the ward. With Rs 3 crore grant, roads were laid at Sainik Vihar, New Dashmesh Nagar, New Dashmesh Nagar phase II, Armaan Nagar (main road). Many works are still pending due to the lack of grants. Over Rs 30 lakh work orders have been taken from the MC and Rs 27 lakh of work orders from the PWD.
Areas in ward
Nagal Shama village, Sainik Vihar, Ganesh Nagar, part of Dhanowali and Dakoha, Ajit Vihar, Sunny Enclave, Modern Estate, Bhullar Colony, Dashmesh Colony, New Baba Budha Ji Colony, Dhilwan.
Prospective candidates
A general ward, sitting councillor Balbir Singh Dhillon of SAD will be contesting the MC elections this time too. Jagdish Kumar Dakoha is likely to be the Congress candidate.
Residents speak

Most of the development works have been left midway. The streets in our locality are not covered with tiles, whereas streets in some selective areas have been covered. I fail to understand this strange development pattern.
— Gurjit

Overgrown weeds and cannabis, waterlogged vacant lands are a prefect breeding ground for mosquitoes and other insects. The MC has failed to improve sanitation in our area.


— Asha Rani

Commuting on potholed streets is a challenge. We feel left out when we see areas with smooth roads in the same ward. We are paying the price of inter-ward politics since our area falls between Ward Number 11 and Ward Number 13. — Yogesh

I just dusted my house in the morning and the dirt is back again. One vehicle passes and our courtyard is covered with a layer of dust. The MLA and the councillor visited our area, but all they gave was hollow promises.

— Ranbir Kaur