MC POLLS
WARD WATCH — ward no 14

Unkempt parks, garbage dumps, bad roads only problems
Aparna Banerji
Tribune News Service
Jalandhar, May 20
Barring a few problems, there's not much for the residents of Ward 14 to complain about. The occasional dump and garbage mounds by the roadside trouble residents in some of the areas. Residents also complain about some unkempt parks.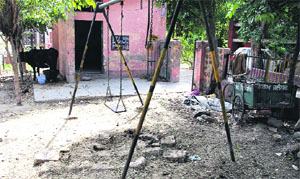 A park in Keerti Nagar in Ward 14 where a resident has kept a cow. Photo: Sarabjit Singh
The most troublesome issues in the ward, however, can be counted on fingertips.
Bad roads in Keerti Nagar (specially the road from Keerti Nagar to Chowgitti Chowk) and near the 40 railway quarters have been giving a hard time to commuters.
The Guru Nanak Pura railway crossing (which cannot have a flyover built on it, due to a sewerage drain passing right underneath) and a huge garbage dump near the 40 railway quarters are two of the most troublesome spots of the ward.
Councillor Kuljit Singh Babbi says that he spent Rs 20 lakh to widen the Guru Nanak Pura railway crossing where traffic chaos ruled, but admits the work still didn't match his expectations.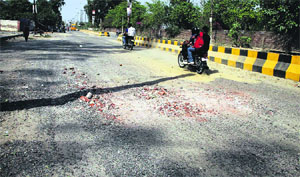 A broken road in Ward 14 in Jalandhar. Photo: Sarabjit Singh

The weekly mandi (vegetable market) on the Guru Nanak Pura (East) road ensures that a lot of garbage regularly gets dumped at the spot.

The litter that results due to the mandi, though cleaned, sometimes causes problems, especially in the rains, when it lets out a bad stench.

There are other garbage dumps which are especially unbearable during the summers and rains. The one near the 40 railway quarters

also happens to be a bone of contention. While the dump itself falls in the neighbouring ward, the inconvenience is borne by Ward 14 residents.

The councillor still says, "It is our men that pick up the waste and neighbouring ward residents do nothing."

This is one of the rare wards where sewerage has been laid in all the areas and it also doesn't have a single unapproved colony falling in it.

Areas in ward

Arjun Nagar, 40 railway quarters, Guru Nanakpura (East), Avtar Nagar, Keerti Nagar, Sant Nagar, Preet Nagar, New Dashmesh Nagar, Sehgal Colony and Rajinder Nagar

Prospective candidates

A general ward, it has been reserved for women this year. Among others, Congress applicants include Kulwinder Kaur, who has been councillor from Ward 15, and Amrita, wife of Congress leader Raj Kumar Raju. From the BJP, 10 candidates have applied, but no name has been finalised yet. Former councillor Ashok Gandhi's wife Nirmal Gandhi is also one of the BJP contenders.

Amount spent
Congress' leader Kuljit Singh Babbi has been the councillor of the area for two consecutive terms and is lauded for some important works, despite existing problems. During his first term especially, he is said to have carried out many development works, the harvests of which, he reaped in his second term, too. Babbi says he spent about Rs 1 crore during this tenure in road projects in Guru Nanak Pura (East) and Dashmesh Nagar. The work on the double-laning of the Ladowali crossing (worth Rs 40 lakh) and sewerage work in some of the areas of the ward were also carried out. A work order of Rs 44 lakh for the problem road patch from Keerti Nagar to Chugitti Road has also been approved.