Taranwala Pul to reopen in multi-lane avatar
GS Paul
Tribune News Service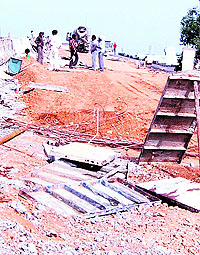 Amritsar, June 27
Traffic snarls on the Amritsar-Jalandhar-Tarn Taran Road may soon become a thing of the past. The century-old Taranwala Pul (bridge) on the Upper Bari Doab Canal (UBDC), crossing the Amritsar-Jalandhar road, would be made operational with a new ultra-modern multilane look within 15 days.
Deputy Commissioner, Rajat Aggarwal, said this 10-lane bridge coming up on this stretch is near completion.
"We have completed 95 per cent of the job. It would have been made operational earlier had there been no disruption in the supply of gravel and bitumen due to the ongoing strike of hot mix plants. Still, we got in touch with the DC, Pathankot, for supplying us with gravel and he agreed to cooperate. I hope this bridge would be open within a fortnight," he said.
This multilane bridge would cost Rs 23.65 crore. Funded by the Punjab Infrastructure Development Board (PIDB), the work is being executed through PWD (B&R). Keeping in view massive traffic flow on this track, it is necessary to introduce such an arrangement because this track caters to heavy traffic from Jalandhar, Tarn Taran and other neighbouring districts.
This bridge is being designed in such a way that it would also have provision for making an additional three-lane flyover, if needed.
Nevertheless, the new bridge would have four wings. First, the three-lane bridge for traffic from Amritsar to Jalandhar; second, the two-way bridge to divert traffic from Amritsar to Tarn Taran; third, the two-lane high-level bridge for the traffic to turn left from Tarn Taran to Amritsar and fourth, a three-lane flyover for traffic from Jalandhar to Amritsar.
"Now, traffic going to and coming from Tarn Taran or Jalandhar would easily negotiate its entry and exit points. Besides, it would improve the look of the main entry to the city," he added.
According to the officials, the three-lane roads (Amritsar-Jalandhar) on the bridge would be 12.5-metre wide whereas the two-lane running perpendicularly on the Amritsar-Tarn Taran route would be 10-metre wide.
There would be 0.5-metre wide anti-crash barriers and ample footpaths for pedestrians as well. Besides this, special traffic lights and neon signs would be installed on the bridges to direct traffic.