Perfect time for a summer getaway
Neha Saini
Tribune News Service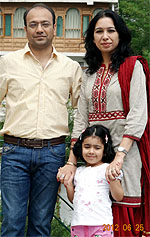 Kapil Sachdeva with wife and daughter on a trip to Manali

Amritsar, June 29
The souring heat and halfway mark to the year is a perfect excuse for a summer getaway. Summer break or not, a vacation is on everybody's must-do list. Not wasting their time to enjoy a summer retreat, the city tourist traffic started towing in and out of the country for another season of summer getaway. We catch up some who are back after a cool holiday at this year's the hottest summer destinations.
While most prefer travelling to international holiday hot spots, this year holiday preferences were closer home, thanks to the inflation that has made travelling 20 per cent dearer. The favourite spots on the hills were Kashmir, Ladakh and Manali. Sunil Aggarwal, a businessman from city, too has come back after a cool summer break in Srinagar. "The Valley being closer and more preferred destination has always been high on tourist chart. It's climate and nature's full bloom make it a hit in summers," he says. Another haven for tourists this year was the ever favourite Manali. The Solang valley has been a favourite with tourists for its virgin locations and adventure treks. Kapil Sachdeva, who just returned from a four-day holiday in the beautiful Manali, can't stop gushing about it. "We preferred to travel by road as we didn't want to miss out on the scenic beauty. The raw natural beauty in Solang Valley makes it a treat for the eyes and the amazing adventure sports like paragliding, rock climbing and long trek trails make your holiday a bit more interesting," he shares.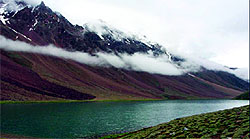 A view of Solang Valley captured by Kapil

While the hills remained high on the list of holiday destinations, there were some who travelled to Far East on an international vacation. Bangkok, Macau, Singapore and Hong Kong were the obvious picks. City-based businessman Rohit Handa and his wife Mehak had their exotic holiday in Hongkong and Macau, "It was an experience in itself with heritage sites, world's tallest structures and the amazing flea markets," says Mehak. "The bustling nightlife of the cities is the main attraction," she adds. But they have an advice for those planning a international holiday, "Pre-plan your holiday. say in February or March, cost cutting in terms of air travels and hotel and lodging can save your money and avoid last minute stress. Summers are a preferred time to travel, be it domestic or international. And since it's become a regular calendar activity for most, advance bookings and arrangements make it easy to enjoy and avoid eleventh hour glitches." Apart from that, Malaysia, Phillipines and Far East, Hua Hin and Pattaya are preferred for beach holiday.
While some have already had their summer getaway, others are waiting to start. Especially, those wanting spiritual tourism. Having become the latest thing in tourism industry, spiritual tourism to places like Badrinath,, Kedarnath, Vaishno Devi and Amarnath too are on cards.