Guide to best colleges

Results of Punjab Assembly Polls 2012


THE TRIBUNE DEBATE: NCTC

Army Chief's Age Row

2011: THE YEAR OF UPRISINGS

Punjab Public Transport, an investigation

WORLD CUP 2011: CRICKET SPECIAL

Turbans

EARLIER FEATURES


3 killed, 31 injured as trains collide near Nashik
Nashik, July 19
At least three persons were killed and 25 others were injured in a collision between a local train and Vidarbha Express near Khardi station near here on the Mumbai-Kasara route tonight.
Govt: No major changes in single-brand retail
Chandigarh, July 19
The government is not likely to go in for any major changes in single-brand retail, especially with regard to the sourcing of goods from micro, small and medium enterprises (MSME). Foreign investors will have to source 30 per cent of its goods from domestic MSMEs.
India, Pak mull ways to ease J&K-PoK travel
New Delhi, July 19
India and Pakistan are understood to have discussed ways to ease travel between Jammu and Kashmir and Pakistan occupied Kashmir (PoK) at a meeting of the Joint Working Group (JWG) on cross-LoC confidence building measures (CBMs) held today.
Tearful farewell to Rajesh Khanna
Mumbai, July 19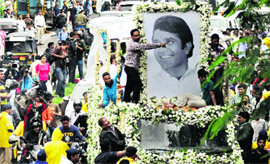 Thousands of fans and personalities from the film industry today came together to bid farewell to India's first superstar Rajesh Khanna
Fans and mourners at the funeral procession of superstar Rajesh Khanna in Mumbai on Thursday. — PTI


Maruti workers go on rampage; 1 dead, 40 hurt
July 19, 2012
With no option left, Mamata says will vote for Pranab
July 18, 2012
Vice-Prez battle on; NDA fields Jaswant
July 17, 2012
India must push reforms: Obama
July 16, 2012
Ansari UPA choice for Vice-President
July 15, 2012
Northern states adamant, no headway on contentious issues
July 14, 2012
States have their way, NCTC out of IB ambit
July 13, 2012
Monsoon covers nation, but deficient in some states
July 12, 2012
No service tax to be levied on NRI remittances: FinMin
July 11, 2012
False alarm forces AI flight to land in Pak
July 10, 2012
UPA now focuses on V-P nominee; Ansari has edge
July 9, 2012