Guide to best colleges

Results of Punjab Assembly Polls 2012


EARLIER FEATURES

Children among 8 die in J&K accidents
Batote/Srinagar, September 7
Eight persons were killed and around 40 injured in various accident in Jammu and Kashmir over the past 24 hours.
Sidhu raises stink over trash in Amritsar, moves HC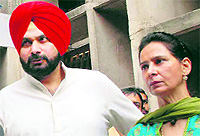 Chandigarh, September 7
Navjot Singh Sidhu may be guffawing his way to popularity in laughter shows on the national television.


Navjot Sidhu and his wife at the High Court on Friday.
Punjab on terror radar again : IB chief
September 7, 2012
54 perish in TN cracker factory fire
September 6, 2012
Cabinet okays SC, ST promotion quota Bill
September 5, 2012
Govt, BJP stick to their guns; session set for washout
September 4, 2012
BJP sets terms for ending logjam over coal blocks
September 3, 2012
Karnataka terror probe widens;
5 more arrested
September 2, 2012
PM rules out resignation, mid-term elections over coal allocation issue
September 1, 2012
Need step-by-step roadmap to take ties forward, India tells Pak
August 31, 2012
SC puts its stamp on Kasab's death penalty
August 30, 2012
PM will have to do a balancing act at NAM
August 29, 2012