Guide to best colleges

Results of Punjab Assembly Polls 2012


EARLIER FEATURES

India crush Pakistan, stay afloat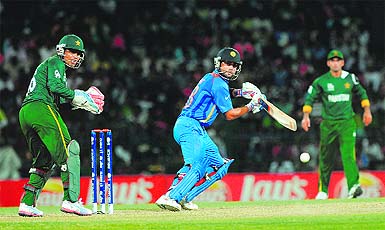 Virat Kohli plays a shot during the ICC Twenty20 Cricket World Cup match against Pakistan in Colombo on Sunday. Kohliís unbeaten 78 off 61 balls guided India to an emphatic eight-wicket victory, keeping its chances alive in the tournament . ó AFP
(Details on Sports page)
Sikh woman, kids found murdered in Belgium
London, September 30
In a gruesome incident, four members of a Sikh family, including three children, have been found murdered in their home in Belgiumís capital city of Brussels. All the four victims, who hailed from Punjab, had their throats cut, a report from Brussels said.
Himachal gears up for smart transport system
Shimla, September 30
In about three months from now, the Himachal Road Transport Corporation may deliver a system that promises safer travel and more efficient service. This is part of a Rs 6.9-crore intelligent transport system (ITS) project under the Centrally funded modernisation scheme.
UPA for executive order to ensure food security
30, 2012
4,100 buses to boost travel in Haryana
29, 2012
SC gives govt free hand to allocate natural resources
September 28, 2012
BJP hints at scrapping FDI in retail if voted to power
September 27, 2012
Cong backs PMís reform agenda; Sonia says no threat to govt
September 26, 2012
Govt moves closer to one rank, one pension; clears Rs 2,300-cr package
September 25, 2012
With Trinamool gone, SP blows hot and cold
September 24, 2012
Amid talk of reshuffle, PM calls on Pranab
September 23, 2012
Time for hard decisions, says Manmohan
September 22, 2012
Anti-UPA bandh unites BJP, Left & SP
September 21, 2012
Cong ready to sail without Mamata
September 20, 2012
Mamata withdraws from UPA, Manmohan govt in minority
September 19, 2012