The tribune 130 years
a witness to history
book released by prime minister manmohan singh

Guide to best colleges

Results of Punjab Assembly Polls 2012

EARLIER FEATURES

Shruti says Nishan her husband, refuses medical test
Duo brought to Delhi from Goa, to reach Faridkot today; girl to be handed over to family
Chandigarh, October 22
Shruti Sachdeva, the 15-year-old Faridkot girl who was allegedly abducted from her residence last month, has refused to undergo a medical examination in Goa saying Nishan, the person accused of kidnapping her, is her husband. The girl will now be asked to undergo a medical examination in the presence of her family in Faridkot tomorrow.
UK ends Modi's 10-yr boycott, talks business
Gandhinagar, October 22
Britain today ended its decade-long boycott of Gujarat when its High Commissioner to India James Bevan met Chief Minister Narendra Modi to mark a "cordial beginning" to fresh ties, with the two discussing opportunities for greater economic cooperation.

Editorial Page: Rise of regional satraps
Nearly 70% milk in market found adulterated, Centre tells SC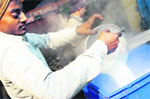 New Delhi, October 22
Ahead of the festive season, states have been asked to crack down on adulterators of milk as a countrywide survey showed that just one-third of the commodity sold in the market met safety and standards norms, the Centre has informed the Supreme Court.
Pak fomenting trouble in India again: Shinde
October 22, 2012
PM sends Aadhaar to 'aam aadmi'
October 21, 2012
Militants target Srinagar hotel, kill 1
October 20, 2012
Fast track trial in crimes against women: HC to Punjab, Haryana
October 19, 2012
Gadkari usurped M'rashtra farmers' land: Kejriwal
October 18, 2012
PM meets Prez; Cabinet rejig on cards
October 17, 2012
Plans afoot to boost cyber security
October 16, 2012
Khurshid talks tough, denies fund bungling by his NGO
October 15, 2012
Bypoll results a jolt for Congress
October 14, 2012
PM bats for limiting RTI to protect individual privacy
October 13, 2012
Govt closer to direct transfer of fertiliser subsidy to farmer
October 12, 2012