'Dance of life' portrays existence of dying AIDS patient
Aparna Banerji
Tribune News Service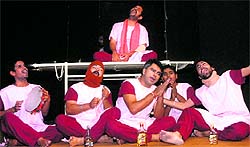 Artistes enact a play, "Dance of life", at Desh Bhagat Yadgaar Hall in Jalandhar. Tribune photo: Malkiat Singh

Jalandhar, November 11
Can hens trapped in a cage, about to be slaughtered, have any sexual inclinations? And do the survival of their sensuality, in their suffocated, caged existence, make their last moments any better?
Hens and their cages being mere metaphors, these seemingly ridiculous questions sum up the existence of thousands of "real" unfortunate men whom the play "Dance of life" talked about, through the portrayal of a bunch of Mumbai addicts.
Staged at Desh Bhagat Yadgaar Hall on Friday night, the play directed by Ankur Sharma, carried many firsts on its shoulders and dealt with issues which have never featured with such brazen intensity on the Jalandhar stage.
Addiction, AIDS, homosexuality and loads of "desi" abuses made an unabashed appearance on the Jalandhar stage.
But the idea was not to generate cheap shocks or thrills.
Quite the opposite, it was to give society a peek into the baneful existence of men hooked to slow poison - whose tales go unheard even as agitated political speeches (on the very same issues) hog the limelight.
Though scripted by NSD stalwart Chetan Datar about a few men eking out a troubled existence in Mumbai's underbelly, the play's uncanny relevance to Punjab in the present context, lent it amazing topicality and credibility.
The men in Datar's tale could quite possibly be men from the dark, dusty hinterland of Punjab (read: Jalandhar).
The plot was about a man (Damu played by Harish Dogra) dying of AIDS, constantly voicing out his fears, insecurities, wishes and (read: sick) fantasies to his mate Murli (played by Sarvpreet).
One of his fantasies included having a beautiful daughter and discussing teenage problems with her when she grew up.
To cheer a dying Damu, Murli told him tales about Gopinath (played by Ankur Sharma) - the Bhau (big brother) - on a shady street side of Mumbai who added a bit of joy to the dark lives of his doting addict brethren by narrating spicy tales from his scandalous, youthful days (young Gopi played by Vishesh Arora).
The sessions, popular in the neighbourhood as "Gopinath ki katha", aged and with them aged Gopi.
Heading towards his dark end, Gopi slowly lost his most precious peers to the disease. And finally, he lost himself.
The dark wit of the play silently outraged a mum audience. AIDS was a "bimari jo hafta vasool rahi hai", life of a man dying of AIDS was "broiler murgiyon jaisi zindagi" and self-stimulation was "swayamsewa".
If the context was a bit different, people would have laughed and hooted. But the somber portrayal only called for a solemn silence from the bunch of theatre lovers that saw the play.
The play ended with one of the most poignant tragic ends. Murli soothed, caressed and fondled a dying Damu in a poetic man-to-man embrace. The duo had more chemistry than any of the man-woman couples recently featuring on the Jalandhar stage.
There were no tears, only the sound of the bare feet of a fresh corpse dragging across the floor to an empty hospital cot.
Gopinath used to say "Bewre saale moot moot ke marenge" (damn drunkards will pee themselves to death).
There were impressive performances by Damu (who is almost turning out to be the mouthpiece of Anku Sharma), young Gopi, Pandari (played by Govind Verma), Mahesh (played by Punit Mishra).
Karan Singh as the hollow-faced man, said quite a lot with his silence.
Vikas Anand, Gagan, Vikram Thakur, Shashi, Anjali Mishra, Mandeep and Manpreet Kaur were also impressive.
The director along with his friends Manu Sharma gave the music of the play, which was perfectly executed by the sweet-voiced Punit Mishra.
Ankur Sharma's cast showed considerable maturity and strength. The only let down was the pace which slowed at places and the surfacing of melodrama at times in an overall disciplined and real act.
While the cast had approached many educational institutes in the city, none of them supported their endeavour. Many also denied them sponsorship. The cast researched addicts by meeting AIDS victims at the local Civil Hospital's AIDS section.