The tribune 130 years
a witness to history
book released by prime minister manmohan singh

Guide to best colleges

Results of Punjab Assembly Polls 2012

EARLIER FEATURES

High reserve price keeps telcos away from 2G bidding
New Delhi, November 12
As expected, the 2G Spectrum auction, which got underway today, has received a lukewarm response from telcos. There were no takers for Delhi and Mumbai circles, leaving the government wondering whether it would be able to achieve the revenue target set by it.

PGI ENTRANCE TEST ROW
Key accused in MD exam racket identified
Chandigarh, November 12
The police has identified K Gangadhar Reddy, a 33-year-old man arrested from Bihar, as one of the accused who provided PGI entrance exam answers to the gang of cheaters that was busted in Chandigarh recently.
Tests say athlete Pinki is male; faces rape charge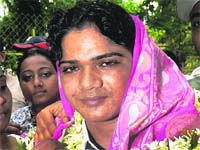 Barasat (WB), November 12
Asian Games gold medallist Pinki Pramanik, who was embroiled in a controversy surrounding her gender, was today charged with rape and cheating by the police after medical tests established that the athlete is a male.


LUDHIANA LAND ACQUISITION
SC hikes compensation to farmers by 25% after 40 yrs
New Delhi, November 12
The Supreme Court has increased the compensation amount for the land acquired by the Ludhiana Improvement Trust (LIT) in 1972 by 25%. A Bench of Justices GS Singhvi and SJ Mukhopadhaya hiked the compensation paid to the farmers from Rs 39 per square yard to Rs 49 a sq yd.

PM gives Maya food for thought
November 12, 2012
Antony: No hasty decision on revoking AFSPA in J&K
November 11, 2012
Gear up for LS polls, Sonia tells partymen
November 10, 2012
Cabinet clears one-time fee for telcos
November 9, 2012
Four more years for Obama
November 8, 2012
BJP core group rallies behind Gadkari, Advani skips meet
November 7, 2012
Jena accuses Odisha CM of mega mining scam
November 6, 2012
Congress gets into battle mode
November 5, 2012
Swamy moves EC to derecognise Cong
November 4, 2012
CBI can't withhold info on graft: CIC
November 3, 2012