PIMS staff goes on strike
Non-payment of dues for August, September and October
Tribune News Service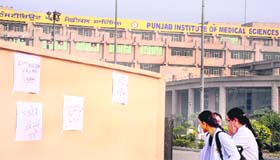 Protest slogans pasted on a wall of the institute by the staff in Jalandhar on Thursday. Photo Sarabjit Singh
Jalandhar, November 15
The staff of the Punjab Institute of Medical Sciences (PIMS) has once again taken to the protest path. For the second time this month the staff of PIMS today suspended regular services, owing to the non-payment of their dues for the months of August, September and October.
While doctors at the institute suspended OPD and regular services (except emergencies), the institute's class IV employees even held a protest at the PIMS entrance, agitating against the management for the non-payment of pending dues.
In the beginning of November, too, the irked doctors (who had suspended OPD services for not having received their salaries) at PIMS had been pacified into carrying out their regular duties by the management.
While they were assured by the management that they would be receiving their pending salaries for the months of July and August before Divali, they have only received their salaries for the month of July, while the salries of the rest three months are still pending.
The entire staff of the institute, including medical, technical and class IV employees, has been having financial crisis due to the non-payment of dues. While there are about 160 doctors working at the institute, the total staff members are about 400.
Director Principal, PIMS, Dr Kulbir Kaur, when contacted, refused to comment on the issue.
While during the previous strike, the medical staff had also submitted a letter to her on the issue, she said all such applications were being forwarded by her to the management.
Dr Ajay Aggarwal, Resident Director of PIMS, also refused to issue a statement.
"I do not know about the issue since I had been out of town for the past some days," he said.
Notably, services at PIMS have suffered due to constant unrest among the staff for the past sometime.
Some inside sources said the management had asked doctors to wait for a week or 10 days, since the management was not in a position to give them salaries before that.