Laid-off safai karamcharis strike a deal with Guru Nanak Dev University


Amritsar, December 12
The safai karamcharis, who were laid off by the Guru Nanak Dev University, and the university authorities reached a compromise after the later agreed to reinstate them, but only through a contractor.

Safai workers ended the hunger strike after getting an assurance from GNDU on Tuesday. A Tribune photo

SGPC gets special machine to pack pinni parshad at Golden Temple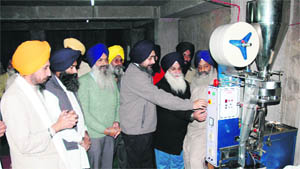 Amritsar, December 12
With a view to maintain hygiene, the SGPC has introduced a packaging machine especially to pack the 'pinni parshad' introduced a couple of months ago at the Golden Temple.


The pinni parsad packing machine being launched at the Golden Temple in Amritsar on Wednesday. photo: vishal kumar

68 leprosy cases reported in city since April
Amritsar, December 12
At least 68 new cases of leprosy have been reported in the district since April this year, said District Leprosy Office Dr AS Sachdeva during a free skin checkup-cum-leprosy screening camp organised at Bhai Daya Singh Memorial Satellite Hospital, Mustafabad, here today.
Kanungo sacked following conviction in cheating case
Amritsar, December 12
Deputy Commissioner Rajat Agarwal today dismissed Sukhraj Singh, a kanungo in the revenue department, following his conviction in a cheating case.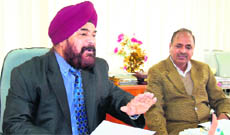 Passport office to clear backlog
Amritsar, December 12
The Regional Passport Office has decided to hold a lok adalat on December 15 to clear the pending cases before the work of accepting new passport applications is completely transferred to Passport Seva Kendra.

Regional Passport Officer JS Sodhi addresses mediapersons in Amritsar on Wednesday. photo: sameer sehgal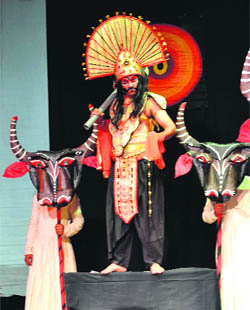 national Theatre Festival
Yamlila, a political satire, sends audience into fits of laughter
Amritsar, December 12
Since theatre has probably been the most reliable ally of social revolution, its proximity with the issues affecting the masses is inevitable. Whether throwing stark realities right in your face or sugar coating them with some creative frills, theatre has always been right to the point.





City gets a laughter dose: The National Theatre Festival continues to charm Amritsar residents. A play, Yamlila, staged at Punjab Natshala on Wednesday, brought the concept of democracy laced with humour. A Tribune photograph

Army mela to be held at Khasa
Amritsar, December 12
Amritsar Garrison will organise an 'Army Mela' on December 14 at Khasa Military Station to felicitate veer naris and the physically challenged veterans.
Once in a century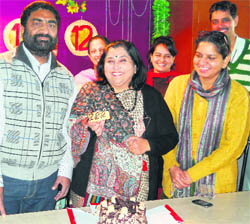 City unfazed by 12/12/12
Amritsar, December 12
For some it might just be a number, for many a prediction and for others it's a day to have some fun. Thanks to the Mayans and some Hollywood films high on special effects, December 2012 started on a freaky note. Now, not sure whether Mayans were right in their predictions or they just wanted the world to remember them anyhow, we all are well aware of the "the world coming to an end this year' stories.

In a rare instance, principal Neera Sharma along with the staff of DAV Public School, Lawrence Road, celebrates 12-12-12 in Amritsar on Wednesday. A Tribune photo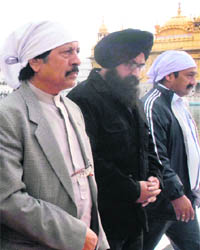 Faith calling:

Pakistani singer Attaullah Khan (left) pays obeisance at the Golden Temple in Amritsar on Wednesday. photo: vishal kumar
Deed writer among eight booked for defrauding man
Amritsar, December 12
Following the orders of the Punjab and Haryana High Court, the city police today booked eight persons, including a deed writer, for allegedly defrauding a person by registering his land in the name of one of the accused persons.
Mega lok adalat on Dec 15
Amritsar, December 12
A mega lok adalat would be organised in all the Judicial, Revenue, Consumer, Labour Courts in district on December 15.
Refresher Course on visual arts
Artist organises workshop in GNDU
Amritsar, December 12
Dr Baldev Gambir, an eminent artist and professor at BBK DAV College for Women, organised a workshop as part of the ongoing refresher course on visual and performing arts in the Guru Nanak Dev University.