The tribune 130 years
a witness to history
book released by prime minister manmohan singh

Guide to best colleges

Results of Punjab Assembly Polls 2012

EARLIER FEATURES

Dense fog blinds North; affects flights, trains
New Delhi, December 25
A thick blanket of fog enveloped most parts of North India, disrupting normal life and hitting air, rail and road traffic, while the relentless cold wave pushed up the death toll to 11. The Met office has forecast a further drop in minimum temperatures in the region and said that poor visibility due to foggy weather would continue over the next 24 hours.
Youth Akali leaders assault Ludhiana AIG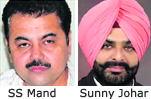 Ludhiana, December 25
Senior Punjab Police officer SS Mand, currently holding the charge of Assistant Inspector General (Counter-Intelligence), Ludhiana range, suffered a fracture after he was assaulted by three Youth Akali Dal leaders and bouncers at a night club in the Ghumar Mandi area here late last night.
Punjab page:


Capt flays assault


Sunny, Banda were expelled in May this year: YAD


Sack Sukhbir and Majithia, says Bajwa


Tough liquor laws drive plum cakes off Mumbai shelves
Mumbai, December 25
Gourmets, who eagerly await Christmas for that slice of rich plum cake and a glass of wine, have been forced to sponge off their Christian friends as tough laws regarding sale of alcohol has forced cakes made of rum-soaked fruits off the menu in Maharashtra.
2 ACPs suspended, trial from Jan 3
December 25, 2012
PM says anger genuine, promises women's safety
December 24, 2012
Public ire mounts: Protesters brave teargas, water cannons
December 23, 2012
Delhi HC slams police for being evasive in rape probe report
December 22, 2012
Cong wrests Himachal, Modi scores a hat-trick
December 21, 2012
Fifth accused detained in Bihar
December 20, 2012
Delhi rape horror sparks outrage
December 19, 2012
RS votes for quota in govt job promotions
December 18, 2012
6 soldiers killed in Siachen avalanche
December 17, 2012
Classroom carnage: US looks for answers, motive
December 16, 2012