Two auto-lifters arrested
Duo formed a gang after they met in Bathinda jail
Megha Mann
Tribune News Service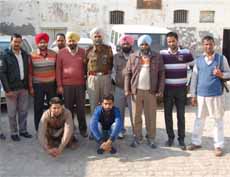 The two accused, arrested for lifting vehicles, at the Thermal Police Station. A Tribune photograph
Bathinda, January 29
Police today arrested two youngsters and recovered three vehicles from their possession. Both the youngsters are habitual offenders and were out from the Bathinda central jail on bail.
In-charge, anti-narcotic cell, sub-inspector Rajinder Kumar said the police arrested 21-year-old Pawan Kumar alias Pannu, a resident of Cant road, Faridkot, and 26-year-old Jaswinder Singh alias Raju, a resident of Kartar Basti, Bathinda, at a naka set up near the Rose Garden.
Police recovered three vehicles from their possession worth Rs 15 lakh. While Pawan Kumar is an undertrial in a case of vehicle lifting, Raju was in jail in a street brawl case. Both had recently come out of jail on bail.
"Pawan's father, Surjit Singh, is also lodged in the jail in vehicle theft cases and they are professionals. While lodged in jail, the father-son duo met Raju and formed a gang," said the police officials.
Thereafter, Navdeep Singh, a resident of village Harraipur and Pappi from Balvir Basti, Faridkot, joined them. While Pawan, Raju and Navdeep stole vehicles, Pappi made fake documents of the stolen vehicles and sold them further. Both Navdeep and Pappi are on the run. Police hopes to recover rubber stamps and other incriminating documents from Pappi, once he is arrested.
Since December 17, the gang has stolen three vehicles. Police has recovered an Indigo car PB-31-9920, a Bolero PB-04T-8967 and another car, which was parked in the parking lot of the Bathinda fort.
The gang targeted only those vehicles which did not have sensors installed in them and hence, did not raise an alarm on being opened forcefully.
"The accused are well acquainted with various vehicles and their designs. They had made a special lever kind of a tool that was used to force open the vehicles and steal them. The tool has also been recovered from the accused," said the police.
Police has registered a case against them under Sections 379, 411, 413, 420, 467, 468, 471, 473 120 of the Indian Penal Code (IPC) at the Thermal police station. The duo has been sent to remand till February 1.