Generation gap finds echo in Punjabi film
Tribune News Service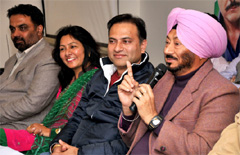 Actor Jaswinder Bhalla speaks to media persons. Photos: Bhupinder Dhillon
Bathinda, January 27
The Punjabi movie from the thespian-turned-director Pali Bhupinder Singh, Stupid 7, highlights the seven stories of seven youngsters who battle the odds that the youngsters face these days.
In the city today to promote the movie with the entire star cast, Pali Bhupinder said the movie is based on one of his plays "Me and My Story".
The young stars of the movie include Milind Gaba, Pukhraj Bhalla (son of comedian Jaswinder Bhalla), Jasmeet Kaur, Karanjit Singh, Saibi Sodhi, Gunit Cour, Sukhman Brar and Jannatpreet.
Veterans Guggu Gill, Jaswinder Bhalla, Razia Sukhbir, Parmod Pabbi, Ramnik Sandhu, Rajni Gujral, Arjuna Bhalla, Harmeet Sanghi and Gaurav Vij are also in the film that has been made over a period of five and half months.
The star cast along with the producers Sandeep Kakkar, Dr JR Kakkar; co-producers Dr Surjit Singh, Lali Dhillon, Rekha Kakkar, addressed a press conference here today.
Speaking about the film, Pali said the story centres on the generation gap among the parents and children in terms of attitude and approach towards life and other related issues.
The character of Sahab, played by Pukhraj Bhalla, is a Sikh student who has shorn his hair due to some reasons that hurts his grandparents and parents.
Tanbir is a girl who hates her father as he tried to kill her when she was in her mother's womb. Similarly, the character of Udit, played by Udit Sharma, is a computer genius but not very bright at academics and is looked down upon by the teachers.
Milind plays the character of Parry from a Hindu family. Saibi Sodhi, who is the only theatre artist from among the seven stupids, plays the role of a wannabe cricketer from a middle class family who is bogged down by the cost of the game.
Gunit Cour, who plays the character of Divya, falls for her teacher, while actor Sukhman Brar, who plays the role of Saivi, is a boy from a rich family who feels lonely.
"Everyone has one thing or the other to correlate with real life. Every person in the audience will feel connected to this movie, which is its USP," said comedian Sandeep Kakkar.
The musicical score is by Jeetu while the lyrics have been penned by Pali Bhupinder Singh and Aksh Mehraj. Kamal Khan, Ashok Masti and Milind Gaba have lent vocals. Harshdeep Kaur has added to the film's music.
Producer Dr JR Kakkar said the movie was shot in and around Moga and has a very interesting concept, right from the story line to cinematography by Dhirendra Shukla.
The star cast later entertained visitors at Mittal Mall as well as Hotel Five Rivers in the city.