This fix can ruin your life
Gamblers Anonymous comes to the aid of individuals addicted to betting. They land in a spot, as their careers and family lives are hit
Taru Bahl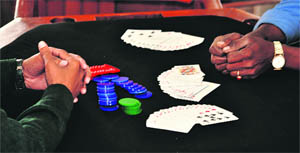 For Kartik, harmless gambling started with stakes of Rs1000 which quickly graduated to those ten times higher and before he knew, in one cricket season he lost as much as Rs4 lakh. A fresh graduate, into his first job, he scraped through and paid bookies and money lenders by borrowing from friends. By the time the next set of tournaments began, he was deep into the betting cycle — desperately chasing losses. Within a year, he was a sports junkie, betting on any game beamed on the telly. Three years down the line, he lost Rs 30 lakh, along with the confidence of family and friends. A nervous wreck, he vacillated from feelings of denial, desperation, anger, acceptance and is now finally into rehab. Coming from a wealthy family, it was easy for him to get a chance to fix his life. Not all are as lucky.
---
ARTS
Dice the ice
The month-long snow festival of Alberta encompasses a huge breadth of cultural as well as athletic activities
Peeyush Agnihotri
Canada is draped in all-whites in winters and there is not much to showcase outdoors. Says who? Well, there's a lot what one can do with that white champagne powder, a local moniker for snow. Canadians celebrate the deep freeze with as much fun as the summer thaw and Alberta's SnowDays Festival, held annually in January at Lake Louise is a cool tribute to this chill.

BROAD BRUSH
---
Wellbeing
Food for mood
What we eat and when we eat is responsible for altering the chemical balance in the brain which affects our body functions and behaviour
Your choice of food has a tremendous effect on your moods, thoughts, attitudes and behaviour. Optimising your diet simply means that you follow the principles of a healthy and balanced diet to achieve and maintain a desirable body weight, for heightened immunity and boosted metabolism. Consumption of wholesome and natural foods containing energies and potential nutrients obtained from sunshine, rainfall and other seasons have great medicinal and healing properties and can protect you from deficiencies and diseases.
---
Society
Force to reckon with
Daljit Singh Randhawa belongs to a family whose seven generations have served in the Army. In an interview, the 93-year-old lone survivng Military Cross winner in Punjab relives his battles in Congo, Burma and the North-East
Varinder Singh
He is the real-life hero who has fought many battles in life— ranging from World War II to the one with cancer and is still ready to wage a war against adversities of life at 93 with a smile. Colonel Daljit Singh Randhawa (retd.) is perhaps the lone surviving Military Cross winning soldier of Punjab. Randhawa saw action in different parts of the world, including Burma during the World War II. He was a part of the UN Forces in Congo and Lebanon.
---
TRAVEL
Taking the mountain road
A group of seven motorbike riders take to winding roads to experience a high that only hills can provide
H. Kishie Singh
Early winter is a beautiful time of the year in North India. Nights are cool, days are warm and the roads long, winding, smooth and beckon. A heady mix enough to fire up the imagination of boys who have grown up!

Globetrotting
---
ENTERTAINMENT
Children, but naturally
Unlike earlier, the director and the script have started treating children naturally, teaching them to act with spontaneity and presenting them as kids
Shoma A. Chatterji
Till Kuch Kuch Hota Hai, the child character was everything but a child. So, when did the situation change to present the child as a child and not as an adult-in-miniature? One might perhaps point out Taare Zameen Par, an eye-opener packaged in entertainment format. It marked a turning point in the evolution of the character of the child in Hindi cinema. Can one really believe that the Children's Film Society has a meagre collection of only 450 films in its 55-year-old history in the archives?
Honour for Sharmila
The versatile actress, who brought glamour out of the closet in Hindi cinema, has been deservedly conferred with the prestigious Padma Bhushan award
M. L. Dhawan
Sharmila Tagore, who has been awarded the coveted Padma Bhushan this year for her contribution to the development and growth of Indian cinema, richly deserved this recognition. She performed roles that became a voice for women in the Indian society. Sharmila Tagore came to Hindi films after a brief brush with Bengali cinema. Her stint with Satyajit Ray in films like Apur Sansar and Devi got instant recognition.
---