Admission to MBA course of GND varsity through CMAT
Tribune News Service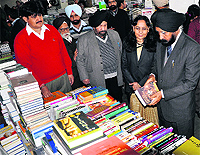 Vice- Chancellor of Guru Nanak Dev University AS Brar looks at books during an exhibition in Amritsar on Friday. A Tribune photograph

Amritsar, February 15
As per the decision of Guru Nanak Dev University, admission to MBA course from the 2013-14 session being run by Guru Nanak Dev University Campus, Amritsar, Regional Campus, Gurdaspur, Regional Campus, Sathiala, University College, Jalandhar, and ASSM College, Mukandpur, will be held through the Common Management Admission Test (CMAT), and will be conducted by the All India Council for Technical Education (AICTE) from February 21 to 25.
Dr Rajinderjit Kaur Pawar, Dean, Academic Affairs, clarified that admission to MBA course would not be done through any other entrance test.
Exhibition-cum-sale of books inaugurated
A two-day exhibition-cum-sale of books was inaugurated on Friday at the Sangat Hall, Guru Nanak Bhawan, on the campus of Guru Nanak Dev University, Amritsar. The exhibition is being organised by the Bhai Gurdas Central Library of the university.
Vice-Chancellor Prof AS Brar inaugurated the exhibition. Dr HS Chopra, Librarian of the university, welcomed the chief guest. Over 42 publishers/distributors/booksellers are taking part in the exhibition. Publishers like Oxford University Press, Cambridge University Press, Sage, Prentice-Hall of India, Tata McGraw Hill, Rawat Publishers, Jaipur, Manohar Publishers, Singh Brothers and Harvard University Press are participating in the fair. Books on over 40 subjects have been displayed.
Dispensary at DAV school
DAV Public School, under the aegis of DAV College Managing Committee, will open a dispensary 'Ayurveda and Yoga Health Care Centre' on its premises.
Principal Neera Sharma stated in a press release issued here today that an expert ayurvedic physician would provide free consultation for various ailments, including, diabetes, blood pressure, asthma, joint diseases (arthritis), stomach diseases, cervical, epilepsy, skin diseases, allergy, heart diseases, memory problems, psychological diseases, air fall, kidney, urine-related problems, paralysis, eye diseases, ears, nose and throat diseases to people.
She said Mayor Bakshi Ram Arora would inaugurate the dispensary. Dr Radhika Pathania would treat patients from 4 pm to 7 pm six days a week except Monday. The dispensary will also be opened on Sunday from 9 am to 12 pm.