National Cancer Survivor's Day
They waded through tough times with grit and calm
Aparna Banerji
Tribune News Service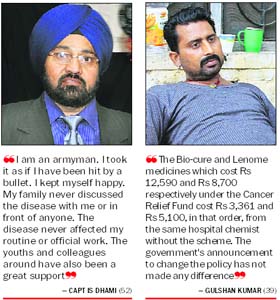 Jalandhar, June 2
Cancer diagnosis means much more than just poor health — it means a continuously deteriorating financial condition, mental trauma and an altered lifestyle for years together. Dreaded as a curse, the disease over the years has crept into our populace in a manner never imagined before.
But every cloud has a silver lining, they say.
On the National Cancer Survivor's Day, The Tribune talked to some cancer survivors about what is essential to battle the hideous disease.
Prof Lakhbir Singh (51), a teacher and an activist, detected cancer symptoms for the first time in November 2006. A sneeze froze his body and an usually fit professor refused to move until six people put him in an ambulance.
Thirteen days into what was initially a vertebrae fracture treatment, he was told he had bone marrow cancer. He opted for a Delhi-based hospital for treatment.
After a one-month-long radiotherapy and chemotherapy course, four months of chemotherapy and a bone marrow transplant in August 2007, came the news of 80 per cent remission.
Cancer surfaced again in June 2012 after which he tried an amalgam of naturopathy and allopathy. Since then, it has been a road to recovery.
Family's financial condition has been in a bad shape since and they have spent Rs 85 lakh on the treatment so far.
Rehabilitating his financial situation and finding money to spend on his cancer awareness and other social causes remains his prime concern.
Ask Prof Lakhbir what took him through? "Staying positive and sticking to a natural regime," he says.
When a naturopath told him pesticide-ridden fruits would damage his system, he grew his own stuff or borrowed fruits and vegetables from friends who had their own gardens.
He cautions against artificial sugars, preservatives, ripening agents. He believes the government must ban the use of all such foods to prevent cancer.
Capt IS Dhami (52), Assistant Director, Youth Services Punjab, detected the first symptoms of cancer in 2007 during an official trip to Nainital.
He felt dizzy and was diagnosed with lympahtic blood cancer. He then started his treatment at DMC, Ludhiana.
A chemotherapy dose brining down his TLC levels proved a turning point. One-and-a-half-years of chemotherapy revived him considerably. The nervous, kidney and liver function was also revived gradually.
Dhami says his strength is his family and humour.
"I am an armyman. I took it as if I have been hit by a bullet. I kept myself happy. I would read Sukhmani Sahab, stick to the nutrition chart prepared by doctors and my family never discussed the disease with me or in front of anyone," he says.
He says people tend to offer outrageous advices at times but it is important to keep negative elements aside.
Ask Capt Dhami what took him through, he says, "The disease never affected my routine or official work. The youths and colleagues around have also been a great support."
Gulshan Kumar (39), a former circle president of BJP, Jalandhar, was admitted to hospital owing to some disc problem and he was diagnosed with bone cancer in November 2012. Following this, he started treatment at a cancer hospital in Ludhiana. While he is on the road to recovery, it has not been easy financially for his and his family.
His job was the only source of income for his family (one wife and two children). But help and motivation from relatives and people of the locality kept him afloat. He spends Rs 40,000 to 45,000 per month on cancer medicines but is entirely dependent on his locality people for financial help.
Kumar questions the government's policy of charging hefty amounts from patients under the Cancer Relief Fund.
"The Bio-cure and Lenome medicines which cost Rs 12,590 and Rs 8,700 respectively under the Cancer Relief Fund cost Rs 3,361 and Rs 5,100, in that order, from the same hospital chemist without the scheme," he says. The government's announcement to change the policy has not made any difference as these medicines still cost much under the scheme," he says.