'Ek Tha Gadha' a befitting satire on the political short-sightedness of system
Aparna Banerji
Tribune News Service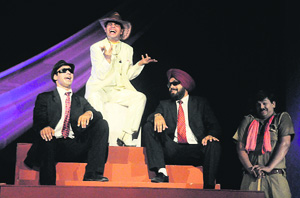 Actors perform during the play 'Ek The Gadha' in Jalandhar on Sunday. Photo: Sarabjit Singh

Jalandhar, June 3
The legendary Allah Daad Khan died. He was a donkey. The (incomplete) 'khabar' travelled to a publicity-craving nawab. The nawab decided to ride on the legend's death to garner much-needed (and undeserved) public sympathy and respect.
A lavish state funeral was announced. The public grieved and the press announced the stately plans of the final farewell with solemnity and drama, as intended by the nawab himself.
When the truth about the 'donkey' was revealed, to make up for the goof up, a righteous, bill-paying, non-violent, ordinary citizen (thankfully) named Allah Daad Khan was martyred to keep up appearances. The emperor got rid of his embarrassment; the public got a nice funeral.
Aptly called 'Ek Tha Gadha', a play with hilarious premise, delighted the audience at the Desh Bhagat Yadgaah Hall.
Group YUVAA's latest offering to the city, the play penned originally by Sharad Joshi, was a fine comment and a befitting satirical tribute to the political short-sightedness of systems which often keep unsuspecting scapegoats (donkey) handy when there is a dire need to cover up the faux pas of a dim-witted emperor (bureaucrats).
The play's eerie similarity with present day systems and government's inability to be answerable to the public (and the public, too, lacking the ability to ask the right questions, or question the government at all) was what made it immensely enjoyable. However, the play lacked in execution and in creating the tautness and hilarity which the script demanded.
The laboured performances and the actors trying too hard proved major dampeners.
While in the past, performances from the same group have flowed effortlessly, this time there was a visible attempt to create laughter, at times dialogues which, done simply, might have evinced rib-tickling laughter, were burdened with loads of melodrama, killing the subtle charm of the joke.
The music and some of the dialogues mouthed by characters were also repetitive.
While the characterisation, props, costumes and dialogues were perfect, if only the length and comic timing of the play had been managed well, the play could have been a roaring success, as there was clearly no lack of humour in the script.
The act by the nagriks was largely funny, especially the part where they vie for the camera.
The nawab (Harish Dogra) and chintaks (Vishesh Arora and Inderpreet Singh), though good, could have done much better.
While the play left a lot unaddressed in terms of execution, the good news is that YUVAA's intention to grab themes that ring true in the contemporary social and political setting is certainly clear and laudable.