Kailash Mansarovar Yatra suspended
Pithoragarh, June 17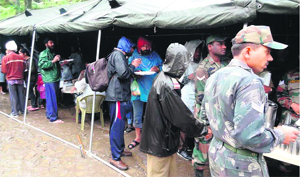 The annual Kailash Mansarovar Yatra has been suspended in view of heavy rains and landslides. "The yatra has been stopped in Bondi in Uttarakhand in view of landslides and heavy rains on the trek route to Gunji. The pilgrims have been accommodated in various locations and the route will be opened again after things get normal," a senior ITBP official said.
Pilgrims and tourists being provided food at a kitchen set up by the Army at Joshimath on Monday.

PM offers all help
Dehradun, June 17
Prime Minister Manmohan Singh talked to Uttarakhand Chief Minister today regarding the natural disaster in the state and offered all help in the relief and rehabilitation measures. Prime Minister Manmohan Singh inquired about the ground situation in the state after massive damage to life and property following heavy rains, floods and landslides in the state.
Dehradun receives record rainfall
Dehradun, June 17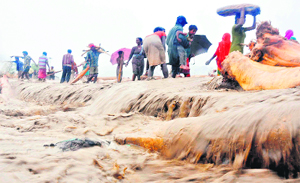 A new record of rainfall in Dehradun has been created with the city receiving 370 mm of rainfall in the past 24 hours. A day earlier, the all-time record of rainfall on a day in the month of June was broken with 220 mm. It was in the year 1925 that Dehradun had received 188 mm of rainfall on a single day in June.
Jhuggi dwellers try to protect their belongings from flood waters at Chandi Ghat in Haridwar on Monday. Tribune photo: Rameshwar Gaur

City divided into four zones
Dehradun, June 17
Mayor Vinod Chamoli held a meeting with officials of Dehradun Municipal Corporation (DMC) to issue directions to deal with the alarming situation arising out continuous spells of heavy downpour effectively.
BJP cancels jail bharo andolan, extends help to rain-hit
Dehradun, June 17
In the view of the natural disaster occurring in the state, the Uttarakhand BJP today announced the cancellation of the jail bharo andolan that was to take place today in protest against the Centre's policy at Tehri, Uttarkashi, Purola, Pauri, Kotdawar, Rudraparayag, Chamoli, Ranikheth, Bageshwar, Didihaat, Nainital, Almora, and Pithoragarh.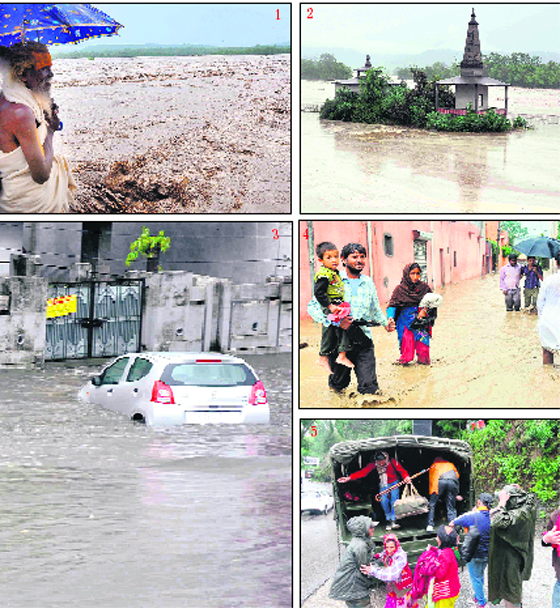 A sadhu looks at the swollen Ganga in Haridwar on Monday; a submerged temple at Neeldhara; a car half submerged in flood waters on a road; people wade through knee-deep water in the Bairagi area and Army men shift stranded pilgrims to camps at Joshimath in Chamoli district. Tribune photos: Rameshwar Gaur