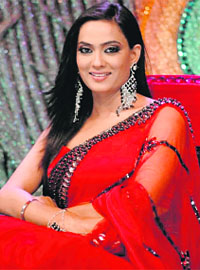 Wedding bells once more
Shweta Tiwari will tie the knot with actor Abhinav Kohli on July 13 in Mumbai. The wedding celebrations will be on a grand scale with a haldi, mehendi, sangeet, wedding and reception.
As Abhinav is a Punjabi and Shweta from UP, they will hold rituals from both communities. Shweta, who is busy shooting for a serial and Jhalak Dikhhla Jaa, is having a tough time managing and coordinating stuff for the wedding. Abhinav has been helping her as is her family. Shweta was married to Raja Choudhary earlier for seven years before she got a divorce last year. — HRM
Celebration mode: Shweta Tiwari
Mouni Roy back on sets
Mouni Roy is back to the sets of Junoon–Aisi Nafrat Toh Kaisa Ishq. Mouni had to leave for her hometown abruptly after learning about her father's demise last month. Since then, the actress had taken some time off from work to stay with her family. However, she is back on the sets now.
According to a source, she has started shooting for the show. The Creatives have a fresh storyline to narrate with her comeback. Currently, the track is focusing on Prithvi (Aditya Redij) as well as Ishwar (Aditya Redij) and soon, Ishwar will be seen bumping into Meera (Mouni Roy). This is when he will decide to shift to Prithvi's place, impersonating him. Since Ishwar is Prithvi's look-alike, nobody at Prithvi's place will recognise him; not even his wife Meera. When we spoke to Mouni, she said, "Yes, I am back on the sets and as far as the story is concerned, I do not have a clear idea on that yet."
Spring in step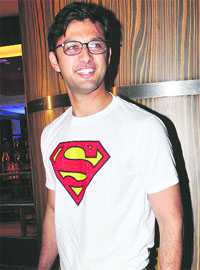 Vatsal Seth, who started his career in television with Just Mohabbat and then went on to do films, is now back on TV with Jhalak Dikhhla Ja. He talks about his decision.
How did you decide to participate in Jhalak?
I am not a dancer and never performed live on stage. I have a major stage fright. Earlier too I got chances to perform on stage on such shows, but this time I agreed to do it to overcome the stage fright. I wanted to be on the biggest platform like Jhalak with Karan, Madhuri and Remo.
Small screen: Vatsal Seth
Are you doing a TV show?
I am not sure yet. I might be doing it but I haven't signed anything yet. There are two shows offered so I am thinking about the options.
You also have films?
Yes, I am doing a film with Irock productions and Sohail Khan's Mental.
If you do take up the show, how will you manage television and films?
You can manage when it is required. TV and films can be worked out as there are many people who are doing it.
Are you dating anyone?
I wish. I am not seeing anyone as I don't have the time at all.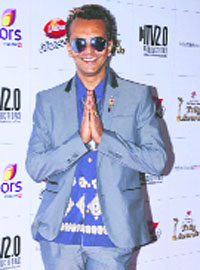 Back on telly
Imam Siddiqui became famous in Bigg Boss for his hit line Timeout. Now he's back on MTV. He will be doing a comedy reality show called Time Out. Promos show that people will know more about Imam than they did in Bigg Boss. The show airs on July 14, 2013, at 7 pm.
Telly tale: Imam Siddiqui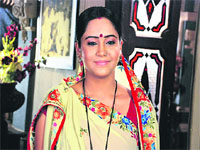 Online riddle
Aasiya Kazi of Bandini fame is upset with her fake Facebook account. Apparently, when people called her about a post, which said she won a dance competition, she realised something was amiss. Aasiya revealed she has no account on any social networking site. Net issue: Aasiya Kazi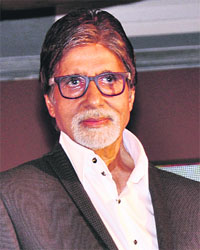 Soon, KBC once again
Megastar Amitabh Bachchan is back with Kaun Banega Crorepati and rehearsals for the seventh season of the show are on. Bachchan posted on his blog saying, "The rehearsals for KBC have begun, the team is in its elements and the excitement of yet another season draws near. It all began in the year 2000, and that makes it an association of thirteen years with the game show. That is some time period."
Show time: Amitabh Bachchan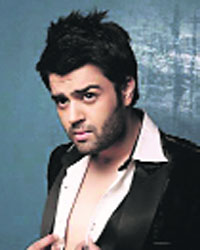 Problems getting along
Rumours are that anchors of Colors' Jhalak Dikhhla Jaa Season 6 Manish Paul and Kapil Sharma don't get along with each other. As both are very busy with their projects, they don't interact much post the shoot which has led people to believe that there's competition of one-upmanship going on between them. Perhaps, Manish being more popular of the two, is irking Kapil.
No chemistry: Manish Paul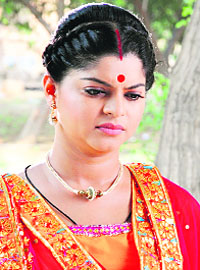 Time machine
Apparently, Ek Veer Ki Ardaas – Veera will go for a leap in September. Sources claim the leap was planned three months after the show launched, but as the kids Ranvi (Bhavesh Balchandani) and Veera (Harshita Ojha) are so loved by the audiences the makers did not tamper with the show.
A still from Ek Veer Ki Ardaas—Veera
Fresh face
Humaima Malick of Bol fame will make her Bollywood debut opposite Emraan Hashmi in a film directed by Kunal Deshmukh. Humaima was chosen because she is a fresh face and a brilliant actress. Humaima is thrilled to work with Hashmi who is a big star in Pakistan too. We wonder if she will be okay with the kissing scenes which are a norm in Bhatt films.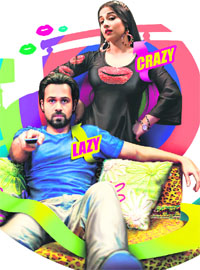 Hit & miss
Ghanchakkar has become a big disappointment. The film got lukewarm reviews and even the performances did not get much praise. This film has broken Vidya's hit run at the box office and is among Emraan's flop films. The movie has made Rs 20 crore in its opening weekend but these collections are disappointing. The movie has been rejected by audiences. Raanjhana has made more than Rs 42 crore already and is a certified hit.
A still from Ghanchkkar
Romantic escapade
They may keep denying their romance but that does not stop them from holidaying together. Ranbir Kapoor and Katrina Kaif will fly to Barcelona for a few days to spend time with their friend Ayan Mukerji and also with each other. They are busy with choc-o-bloc shooting schedules but manage to make time for each other.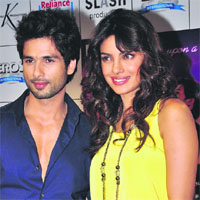 Party time
Shahid Kapoor and Priyanka Chopra were under one roof after ages (though he attended her father's funeral and prayer meet) for their common friend Mubina Rattonsey's birthday party in Bandra, suburban Mumbai. They cleverly chased the paparazzi. They are on good terms. Meanwhile, Priyanka keeps herself extremely busy with work to overcome her father's passing.
Shahid Kapoor & Priyanka Chopra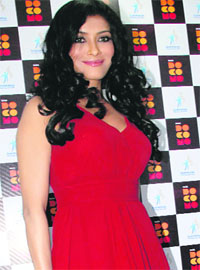 Nandana ties the knot
Nandana Sen was dating producer Madhu Mantena but they broke up last year due to work issues. On June 22, she married Penguin Chairman and CEO John Makinson in a private ceremony in New York. They met in November 2012. They will settle down in New York. Madhu was aware of the marriage and wishes his ex-girlfriend the best. He could not attend the wedding.
Nandana Sen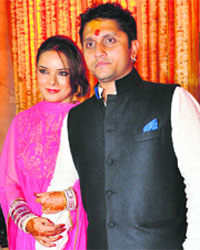 Honeymoon in Europe
Mohit Suri got married recently but got involved with work and had a big success with Aashiqui 2. He is finally going on his honeymoon to Europe. Udita has planned a 20-day-trip across the most exotic locations in Europe. We hope they have a super time. They deserve it!
Break time: Udita & Mohit Suri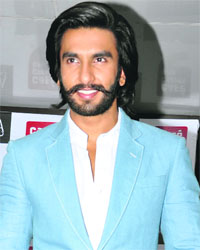 Ranveer finds inner peace
Ranveer Singh recently went to Kalighat temple in Kolkata during the promotions of Lootera. He had earlier visited the temple when he was shooting in Kolkata. He finds inner peace each time he visits the temple.
Divine calling: Ranveer Singh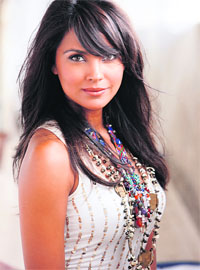 After Dilli, it's China
These days every filmmaker makes a sequel of the film that goes well with the masses.
Take the case of Lara Dutta's home production Chalo Dilli. When released in 2011, the film drew critical acclaim and was liked by the masses.
Now, Lara is planning to make its sequel that would star Vinay Pathak in the lead again.
If reports are to be believed, the sequel will be helmed by Shashanka Ghosh who had earlier directed films like Quick Gun Murgan, Nyay Anyay and Waisa Bhi Hota Hai.
But a little difference would be seen in the sequel. While the first film had Delhi as the centre of attraction, the sequel would be based in China.
Act two: Lara Dutta