Cabinet clears food security ordinance
New Delhi, July 3
Preparing for the 2014 General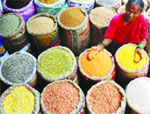 Elections, the Congress-led UPA today decided to take the ordinance route to provide India's two-third population the right to food at subsidised rates. Opposition parties, primarily the BJP and the Left, wanted National Food Security Bill, Congress president Sonia Gandhi's pet project, to be discussed in Parliament.

SAD stamp on Punjab panchayat poll
Party-backed candidates lead in skirmishes as well
Chandigarh, July 3
While candidates backed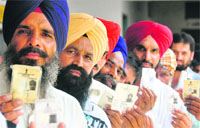 by the Shiromani Akali Dal (SAD) won most of the seats in the elections to 13,080 panchayats in the state today, the ruling party also emerged as the lead participant in majority of skirmishes reported from different places in the state.
An estimated 84% voters exercised their franchise

More reports on Punjab page
India to take up with US 'snooping' on its embassy
New Delhi, July 3
India today expressed concern over 'disconcerting' reports that its embassy in Washington was under surveillance by the American National Security Agency (NSA) and said it would take up the matter with the US.