Now, organising chhabeels, langars sans prior permission an offence: MC
Opposition flays the move, says it would hurt the sentiments of
residents
GS Paul
Tribune News Service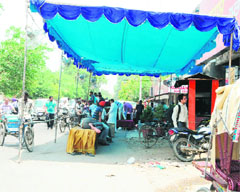 A tent erected for chhabeel and langar which caused traffic congestion at Albart road in Amritsar. Tribune File Photo
Amritsar, August 8
Taking strict notice of langars (free community kitchen), chabeels (disbursing free sweet water) and those holding kirtans or jagratas without prior permission of the authorities concerned, the Municipal Corporation (MC) has drafted guidelines to be followed in this regard.
Those violating the same may find their name in the police daily diary report (DDR). The opposition, however, has criticised the move saying it would hurt the sentiments of city residents.
It has been decided by the MC that the organisers would have to seek prior permission from the police and duly submit it to
the Estate Office before occupying any public place to hold any such event. After the event, they would have to ensure that the leftovers and garbage are thrown into dustbins and are not left on public spaces.
The organisers should make sure that the traffic flow should not be disrupted at any cost. Many feel that it would be a big challenge for the Municipal Corporation to implement these guidelines in their letter and spirit. No charges have been fixed but a pro forma has been prepared which would have to be filled in by the organisers.
These norms would be monitored by the Estate Office in collaboration with other departments such as the police, health and MC officials. The MC has sternly warned the organisers against damage to public property.
On the birth anniversaries of Guru Nanak Dev, Guru Ramdas, Guru Gobind Singh and martyrdom day of Guru Arjan Dev, langars and chhabeels are installed in each nook and corner of the city. Besides, free food is distributed on Shivratri, Janamashtami and Nimani Kasti.
It is generally noticed that the stalls offering food and water are installed on the road itself. Besides causing damage to the roads, it hampers the movement of traffic which creates huge snarls. Once they wind up, the venue is left unattended littered with waste and leftovers.
MC Commissioner DPS Kharbanda said, "It becomes the moral duty of the residents to share the responsibility of maintaining the cleanliness and not causing any damage to the public property or disrupting traffic movement."
"Besides, they should serve clean potable water and hygienic food. Those who violate the norms would face action as per law," he added.
Estate Officer Vishal Wadhawan said, "We will be coordinating with various departments to implement these guidelines. We want to make sure that people become more responsible."
"It is not acceptable that FIRs will be registered against those who organise langars and chhabeels. The MC on the instance of the SAD-BJP government has hurt the sentiments of the city residents by issuing such strictures," Congress Councillor from ward no 24 Gurinder Rishi said.