Sword-making gains momentum in city
Neeraj Bagga
Tribune News Service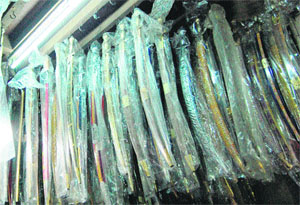 Swords on display at a shop in Amritsar. A Tribune photograph
Amritsar, August 9
The holy city has gained pre-eminence in manufacturing sharp edged weapons especially swords. From a potent weapon in the yesteryears, swords have come to be known as breathtaking works of art, made by skilled hands of master craftsmen. Many tourists take them as souvenirs.
The price of a sword reflects the variety and the workmanship. One can find all types of swords from inexpensive machine-made replicas for as little as Rs 50 to hand-crafted masterpieces that cost a mind-boggling Rs 20 lakh or more.
Many factories are engaged in sword-making that find their way across the country, besides distant lands. With annual turnover in crores, the cottage industry of kirpan and other traditional sharp-edged weapons in the city caters to the needs of the domestic as well as the foreign markets.
About a dozen big manufacturers and scores of small units are involved in manufacturing and trading of swords and other traditional arms like dagger, gupti, khukri, khanda, tega, samurai and many more.
These conventional weapons are prepared in various cities across the country for religious and customary purposes but Amritsar is famous for the superior quality of the products. Hence, the local industry has its clientele in NRIs, tourists, traders across various states, including Haryana, Uttar Pradesh, Bihar, Madhya Pradesh and Maharashtra.
A manufacturer and a trader of sharp edged weapons Jiwanjot Singh said around 500 pieces of sword are sold to Army every year. He said Army places requirement for straight swords.
Meanwhile, advancement of technology has changed the age-old art of preparing swords. Before the partition, majority of the artisans were Muslims. An artisan used to take almost a day to prepare a kirpan. However, introduction of ultra-modern electronic devices have drastically reduced the human involvement.
The industry has absorbed the new-age mantra of professionalism diligently and has implemented it in letter and spirit. Parts of sword are made by different experts, which increase efficiency. All the big units employ about 12 to 15 persons and roughly 10,000 people are involved in this profession directly or indirectly. Each unit produces about 150 swords a day, which are largely prepared for religious ceremonies. Its usage has changed from being a vital weapon in battlefield to merely performing religious rites and to adorn the walls as a showpiece, says Mohan Singh, a trader.
Generally, iron and other metal sheets are given to traditional sharp-edged weapons makers, who give it the desired shape. Subsequently, it goes through grinding, polishing, embossing of trademark, nickel-chrome plating and buffing for sparkle-like shine. Eventually, various parts of the sword such as grip and sheath are fitted together and a piece of velvet cloth is covered over it for an impressive look.
Blacksmiths of Dhapai village, on the outskirts of the city, have been involved in the manufacturing of swords and other iron weapons for centuries.