Sangathan requests Centre not to clear hydropower projects in state
Dehradun, August 17
The Matu Jan Sangathan has requested the Union Ministry of Environment and Forests as well as the Uttarakhand government to comply with the recent Supreme Court judgment by not granting further environment or forest clearances to any hydropower projects in the state.
Rains cause landslides in Champawat
Pithoragarh, August 17
Continuous showers has created problems for the villagers. The disaster hit higher valleys and Tanakpur town of Champawat district had sudden landslides last night. Twelve families of Sai Polu village of Munsiyari had to leave their houses as incessant rains caused landslides near their village.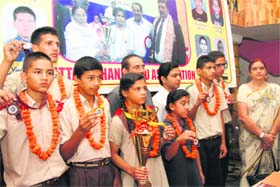 Proud winners: Judokos who won medals in the national championship in Dehradun on Friday. Tribune photo: Vinod Pundir
Villagers worried over Chinese patrolling in border areas
Dehradun, August 17
Having returned from the border areas of Uttarakhand, BJP Rajya Sabha MP Tarun Vijay said he had received information from border villages that post Kedarnath tragedy, the Chinese patrolling had increased tremendously in the Niti-Mana region. Due to this, the sensitive border village of Barahoti had almost turned deserted.
Gaiety marks Bhadraj Temple fair
Mussoorie, August 17
The annual Bhadraj Temple Tourism Fair was celebrated with great devotion and gaiety today. The temple is situated at Doodhli village. One needs to trek for five km to reach the temple which is built at a hight of 7,000 feet above the sea level.
Houses to be constructed under IAY
Dehradun, August 17
The state Department of Rural Development has prepared a list of 5,000 additional houses that would be constructed under Indira Avas Yojana (IAY) for the flood-affected families in the districts of Uttarkashi, Rudraprayag, Chamoli, Pithoragarh and Bageshwar.
Champion seeks Rs 11 lakh, promotion for bodybuilder
Dehradun, August 17
Kunwar Pranav Singh 'Champion' has written a letter to Chief Minister Vijay Bahuguna demanding Rs 11 lakh reward and an out-of-turn promotion for Tejindra Singh, who has won a gold medal in bodybuilding in the World Police and Fire Games held at Belfast, Ireland, recently.
Distribution of relief to flood-hit nears completion
Dehradun, August 17
Compensation has been given to the kin of 106 people out of a total of 132 killed in the June calamity in Uttarakhand since the process began about a month ago. Relatives of 816 out of a total of 834 people from the state who went missing after the tragedy have also been paid compensation and the process to distribute the amount among the rest is on, an official press release said here today.
Centre helping rebuild U'khand
Dehradun, August 17
The Central government is offering all possible help to rebuild Uttarakhand which suffered massive destruction during the recent natural calamity, External Affairs minister Salman Khurshid said here today.
Wife beaten up for giving birth to girl
Pithoragarh, August 17
The revenue police in the Khatigaun circle of Pithoragarh has arrested a man for mercilessly beating his wife for allegedly giving birth to a girl. "Dhirendra Singh of Khatigaun village has been arrested under Sections 498, 323,324 and 504 of the IPC for beating his wife on Thursday," said Sub Inspector Prakash Joshi.


GB Pant varsity donates Rs 16.63 lakh
Dehradun, August 17
The acting Vice-Chancellor of the GB Pant University of Agriculture and Technology, Alok Jain, met Governor Aziz Qureshi here today and presented him a draft of Rs 16.63 lakh for the Chief Minister's Disaster Relief Fund to help the disaster-affected people. The amount consists of one-day salary of the university staff, given by them voluntarily. — TNS
Alok Jain, acting Vice-Chancellor of GB Pant University, presents a cheque to Governor Aziz Qureshi for disaster relief at Raj Bhawan in Dehradun on Saturday. A Tribune photograph