LIFE+STYLE

CHANDIGARH

LUDHIANA

BATHINDA

JALANDHAR

AMRITSAR TRIBUNE

JALANDHAR TRIBUNE

BATHINDA TRIBUNE

JAMMU TRIBUNE

KASHMIR TRIBUNE

DELHI

DEHRADUN

DEHRADUN PLUS

Death for four Dec 16 rapist-killers
New Delhi, September 13
A Delhi fast-track court today ordered that the four men — Akshay Kumar Singh (28), alias Thakur, Mukesh (26), Vinay Sharma (20) and Pawan Gupta (19) — convicted of gang-raping and murdering a 23-year-old girl in the National Capital last year be "hanged by the neck till they are dead".
IPL spot-fixing: BCCI bans Sree, Ankeet Chavan for life
New Delhi, September 13
Rajasthan Royals' players S Sreesanth and Ankeet Chavan were today "banned for life" for their involvement in the IPL spot-fixing scandal by the Disciplinary Committee of the Board of Control for Cricket in India (BCCI).
Second Agni-V test flight likely tomorrow
Balasore, September 13
The second test flight of long-range nuclear-capable Agni-V missile may take place on September 15 from Wheeler Island off the Odisha coast.
OTHER PAGES

PUNJAB: Question papers for school exams on sale, Rs 500 each


HARYANA: HC admits Nirmal Yadav's plea, summons trial court record


HIMACHAL: At Rahul's meet, state's growth agenda takes centre stage


CHANDIGARH: Brace for traffic snarls today


LUDHIANA: Employers booked for murder


DELHI: 56% turnout in JNU; 43% cast vote in DU

BUSINESS: PM's advisory council lowers growth forecast to 5.3%

OPINION: The gallows

SPORTS: Ignominy, disgrace for players

WORLD: US, Russia to push for Syria peace talks


Lahore Log

The tribune guide to best colleges

Budget
2013-14

INDIA CHINA WAR 50 YEAR LATER

EARLIER FEATURES
Khurshid meets Pakistan PM's Adviser in Bishkek
Discusses PM's meeting with Sharif in New York
New Delhi, September 13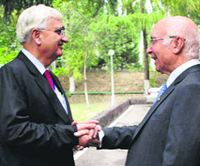 External Affairs Minister Salman Khurshid today held an "informal" meeting with Pakistan Prime Minister's Adviser on Foreign Affairs Sartaj Aziz on the margins of the Shanghai Cooperation Organisation (SCO) Summit at Bishkek in Kyrgyzstan.
External Affairs Minister Salman Khurshid meets Sartar Aziz, Special Adviser to Pakistan PM Nawaz Sharif, on the sidelines of SCO Summit in Bishkek on Friday. — PTI

Jaishankar is envoy to US, Kantha goes to Beijing
New Delhi, September 13
S Jaishankar, Ambassador to China, has been named as the country's next envoy to the US. Jaishankar, who was in strong contention for the post of the Foreign Secretary, will be replaced in Beijing by Ashok Kantha, currently Secretary (East) in the External Affairs Ministry.
Punjab, Haryana say HP owes them Rs 1,611 cr
New Delhi, September 13
Haryana and cash-strapped Punjab today told the Supreme Court that they don't owe Rs 1,497.39 crore to Himachal Pradesh as calculated by the Centre on SC's directive for short supply of electricity from Bhakra and Beas projects since 1966.
BJP to decide on Modi as PM nominee today
September 13, 2013
Prosecution seeks death penalty for rapists; sentencing tomorrow
September 12, 2013
4 guilty of Dec 16 gang rape, murder
September 11, 2013
UP on edge as riots toll rises to 30
September 10, 2013
Muzaffarnagar clashes toll 21; Army out
September 9, 2013
Happy to work under Rahul in party: PM
September 8, 2013
House passes Bill to allow those in jail to contest polls
September 7, 2013
RS okays Bill to give Executive role in judges' appointment
September 6, 2013
SC turns down Centre's review plea on convicted lawmakers
September 5, 2013
India opposes military action against Syria
September 4, 2013