On a loan-raising spree, MC draws Oppn flak
Says SAD-BJP combine did nothing during its first year in House; officials say loans only way to speed up works
GS Paul
Tribune News Service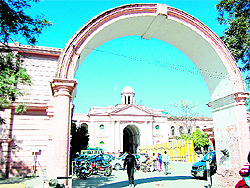 The Amritsar Municipal Corporation. Tribune photographs

Amritsar, September 22
Notwithstanding the Amritsar Municipal Corporation (AMC) getting the government's nod for raising a loan of Rs 100 crore from HUDCO and it planning to get Rs 100 crore loan from the World Bank and Rs 50 crore from Bank of India for completing pending development works, the Opposition Congress has slammed the SAD-BJP combine for doing nothing during the first year of its tenure in the civic body.
The Housing and Urban Development Corporation (HUDCO) has already given Rs 827 crore in advance to the Punjab Municipal Infrastructure Development Corporation (PMIDC) for providing quality civic amenities to the urban local bodies of Punjab.
Out of this, the holy city received a loan of Rs 9.25 crore. This is to improve infrastructure facilities and help create durable public assets and quality-oriented services in cities and towns. The HUDCO has already given its consent for granting Rs 100 crore loan to the MC at 10.5 per cent interest rate.
In September last year, the MC constituted its new house headed by Mayor BR Arora. He presented a budget of around Rs 300 crore for the year 2013-2014. But the civic body could not come out with any concrete policy measures to accumulate funds, which they claimed, would be ploughed back for providing 'quality life' to the residents.
Congress councillor and leader of the opposition, Raj Kanwal Preet Pal Singh Lucky said out of the 300-crore budget, only Rs 180 crore would be consumed straightaway against the employees' salaries per annum (the MC still owes arrears of Sixth Pay Commission amounting to Rs 40 crore to its employees). He said Rs 11.20 crore were required for the annual maintenance of vehicles and Rs 39.85 crore for committed expenses. This would amount to Rs 231.05 crore.
"Now, they (MC) are left with just Rs 70 crore which would be used for carrying out development works. It is being anticipated that Rs 48 crore would be accumulated by selling the MC's properties. While it the MC was expected to garner Rs 20 crore of which it could get only Rs 4 crore. How can one rely on such sources of income?"
"The revenue generated from property tax too is not steady as the government had stalled the move citing its review. I fail to understand as to how they would pay back the loan. The MC has to pay back the funds amounting in crores (from 2015) that it had raised from a Japanese firm for undertaking sewerage augmentation and revamping projects of the city," he added.
District Congress chief and former Improvement Trust chairman Jugal Kishore said, "The MC already has to pay back Rs 30 crore to the Amritsar Improvement Trust. It is also planning to raise a loan of Rs 50 crore by mortgaging properties to Bank of India. Two months back, the MC had sold off its 4,067 square yards plot on Mall Road for Rs 14 crore.
"Selling off properties is no solution. It is the government's responsibility to arrange funds for the development works which was the main agenda of their poll manifesto", he said.
Jugal Kishore said he during his tenure had got executed development works worth crores in Transport Nagar and Jahajgarh, including revamping of sewerage, roads and parks.
"The MC passed a resolution in October last year to take over these areas but later took a u-turn. On April 9, it (MC) took Rs 1.58 crore from the Improvement Trust for developing sewerage. But a dilapidated sewerage and broken roads speak volumes about what the work they have done."
"Residents are ruing that the government is transferring funds to other districts to carry out called development works whereas their own area is being taxed for it. The present government lacks vision and direction as has been proven by BJP MP Navjot Singh Sidhu," he added.
Mayor Bakshi Ram Arora said, "We are selling only those properties which were lying idle or being encroached upon. It was better to put them in use for generating funds. It is true that the Rs 40-crore amount that we would have to bear by paying off the employees' arrears will be a blow as the income generation sources have not expanded proportionately."
Municipal Commissioner DPS Kharbanda said, "We have expedited the process to generate the revenues and the collection from defaulters is reasonably good. As far as loan raising is concerned, we have already chalked out a plan to pay them back. Since the MC was grappling with cash crunch, it was the only way to start the pending projects or complete some of the works that were hanging in the balance for want of funds."