Trader enters into pact with Lahore businessman
Neeraj Bagga
Tribune News Service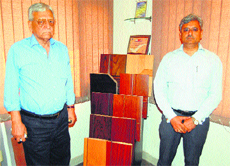 Pradeep Sehgal (right) from Amritsar and Farooq Ahmad Malik from Lahore. Photo: Sameer Sehgal
Amritsar, September 21
With Amritsar-based trader Pradeep Sehgal floating a joint venture with Lahore's Farooq Ahmed Malik to market and subsequently manufacture house, office, hotel, school and college furniture in India, it has revived the memories of pre-Partition days among the trading community.
The twin cities of Amritsar and Lahore used to share strong business ties. Many local traders used to have business interests in both cities of the undivided India.
Amritsar traders are optimistic that this move will revive trade links between Amritsar and Lahore as these existed in the pre-Independence era. Amritsar and Lahore used to enjoy the twin city status being two key trade destinations, said a leading importer and exporter Rajan Bedi. He recalled the positive feelings he had sensed during a business dinner with Nawaz Sharif in December over the signing of a sugar deal, as the latter had a big group of sugar industry there. He said with Sharif, a native of Lahore occupying the reins of government in Pakistan, the business community of Amritsar anticipates a plethora of business activities with Lahore.
He said litterateurs gave the concept of twin cities, governments provided infrastructure, logistics and governance, but eventually it would be trade and tourism which would usher in growth and people-to-people contact.
Another leading local industrialist Kamal Dalmia said Sharif, whose family has his roots in Tarn Taran, has complete understanding of the shared common culture of Amritsar and Lahore.
The establishment of the integrated check post (ICP), four-laning from Jalandhar to the ICP, Amritsar airport's flights to various national and international destinations, train links to even remote parts of the country and international bus terminal offer quality infrastructure to usher in the next stage of growth, he remarked.
Dalmia, who has been to Lahore for business trips, said the holy city and the region around offer specialised manufacturing in various fields to cater to the market needs of Lahore. "Being a metropolitan city of Pakistan, Lahore supplies merchandise to a large area domestically."
He said it was an irony that "salwar kameez", widely worn in Pakistan, is manufactured in Amritsar, but it is exported via the UAE.
The transportation cost would come down drastically if there is permission to export fabric directly via Attari-Wagah Joint Check Post. He said a metre of cloth costs between $1 and $1.25, depending on six different varieties of the fabric. However, the cost doubles by the time the same piece of cloth reach Pakistan via Dubai.
Another industrialist Raman Gupta said there were about 1.20 lakh registered engineering goods manufacturing units in the state and many of them were in the city. He said the industry here was facing closure due to stagnation and anticipated that these units could easily benefit with greater ties with Pakistan as a majority of engineering goods were in its imported list.
He added that small-scale industries (SSI) here had got advanced machinery and wherewithal to manufacture and deliver high-quality products. The SSI units were finding it hard to get new markets and Pakistan would be a big target in this direction. Lahore, being located closer to Amritsar, gives advantage to the holy city, as it is the second biggest market in Pakistan after Karachi. He recalled that in pre-Partition days, his grandfather had a flourishing business in Lahore and had established another branch in Amritsar as well.