LIFE+STYLE

CHANDIGARH

LUDHIANA

BATHINDA

JALANDHAR

AMRITSAR TRIBUNE

JALANDHAR TRIBUNE

BATHINDA TRIBUNE

JAMMU TRIBUNE

KASHMIR TRIBUNE

DELHI

DEHRADUN

DEHRADUN PLUS
PM says peace talks to go on
Washington DC, September26
Prime Minister Manmohan Singh branded Thursday's attack by militants on a police station and Army camp in Jammu and Kashmir as "barbaric" but - without mentioning Pakistan - said it would not derail efforts to pursue peace through dialogue. "This is one more in a series of provocations and barbaric actions by the enemies of peace," Singh said in a statement.
Attacks shatter Chandigarh family
Chandigarh, September 26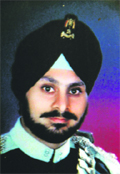 The terror attack on an Army unit in Jammu has shattered a family in Chandigarh, which lost its only son, Lt Col Bikramjeet Singh. The 37-year-old officer was the second-in-command of 16 Cavalry that came under militant attack today. with him in Samba) and his parents, Maj Paramjit Singh and mother Luvpreet.

Lt Col Bikramjeet Singh, who was killed in Samba. Tribune photo: Pradeep Tewari



Edit: Dastardly attack

OTHER PAGES

PUNJAB: Joshi backs Sidhu, says Amritsar funds must be spent on city alone


HARYANA: Bengali girl sold twice escapes


J&K: Terror attacks in Jammu shatter peace at regular intervals


HIMACHAL: More species of vultures to be conserved


CHANDIGARH: PVR Cinemas sealed


LUDHIANA: 44 child labourers rescued


DELHI:Dengue: CM blames civic bodies for negligence

OPINIONS: Dastardly attack


NATION: SC puts 7 states on notice


BUSINESS: GAAR to come into effect from April 1, 2016

SPORTS: Viru comes down, Delhi go down

WORLD: Al-Shabab launches fresh attacks in Kenya


Lahore Log

The tribune guide to best colleges

Budget
2013-14

INDIA CHINA WAR 50 YEAR LATER

EARLIER FEATURES
Convicted lawmakers in House
Don't sign ordinance, BJP tells President
New Delhi, September 26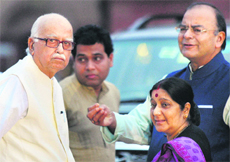 With the Bharatiya Janata Party (BJP) knocking at the door of President Pranab Mukherjee urging him not to give his assent to the ordinance providing protection of membership to convicted lawmakers.

BJP leaders LK Advani (L), Arun Jaitley (R) and Sushma Swaraj at Rashtrapati Bhawan on Thursday. — PTI

SC puts 7 states on notice
New Delhi, September 26
Enlarging the scope of the PILs on the coal scam, the Supreme Court today issued notice to seven states seeking their replies to four questions on the allocation of coal blocks in their territories. A three-member Bench headed by Justice RM Lodha sought the states' response as Attorney General GE Vahanvati said the Centre had merely played the role of a facilitator in the allocations.
(Details on NATION page)
Last chance saloon for Manmohan and Obama
Raj Chengappa
in Washington DC
September 26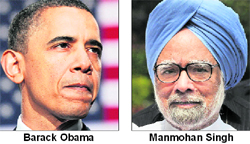 When Prime Minister Manmohan Singh arrived at the Andrews Air Force Base at Maryland today for a record sixth bilateral summit with a US President, it was apparent that there was a sea change in the atmospherics from that prevalent at his first summit in 2005 with the then US President George Bush.

Terror, LoC tension, trade to dominate PM-Sharif talks
September 26, 2013
Convicted lawmakers can contest polls
September 25, 2013
Crack down on communal elements, PM tells states
September 24, 2013
Suicide bombers kill 78 at Pak church
September 23, 2013
BCCI chief's son-in-law charged with betting, leaking team info
September 22, 2013
Home, car loans to cost more as RBI raises lending rates
September 21, 2013
Sensex rides on US stimulus, gallops to three-year high
September 20, 2013
Arrest warrants against 16 UP leaders for 'inciting' riots
September 19, 2013
Sharif presses for serious dialogue with India
September 18, 2013
PM, Sonia reach out to UP riot victims
September 17, 2013
In poll mode, Modi calls for strong leadership at Centre
September 16, 2013