Mystery shrouds death of 25,000 brown trout fingerlings
Barot (Mandi), October 15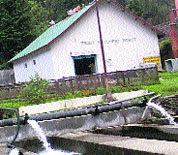 Mystery shrouds the recent "high mortality of 25,000 brown trout fingerlings" from a fish seed farm here this year. This is the only fish farm that produces brown trout seed for farmers and for stocking in trout-rich habitats in Uhal, Tirthan, Parbati, Sainj, Pabbar and other fresh water rivers in the state.
The trout hatchery Barot in Mandi. Photo by writer
Hamirpur Parliament Seat
Congress starts process to finalise candidate
Hamirpur, October 15
As the All-India Congress Committee (AICC) is gearing up for the coming parliament elections and gathering feedback at various levels, the process for finalising Congress candidate for the Hamirpur parliament constituency has also gained momentum.
Palampur Rotary Eye Hospital provides affordable eye care
Dharamsala, October 15
Mela Mal Sood Rotary Eye Hospital, Maranda, near Palampur, has evolved as a model hospital in the private sector that is providing affordable and free eye-care to the patients in the state.