Two shades of B-town Boss
Directed by Anthony D'Souza, Boss is a Bollywood action masala film that is produced by Cape of Good Films and Ashwin Varde Productions. The film features Akshay Kumar, Mithun Chakraborty, Shiv Pandit, Aditi Rao Hydari and Ronit Roy in lead roles. It is apparently a remake of Malayalam film Pokkiri Raja starring Mammotty, Prithviraj and Shriya Saran.
Mindless masala
If you are expecting this to be the kind of film that dwells on the idea of exploring creative and intellectual avenues of commercial cinema, then you're headed for a wrong chase. Boss is a complete masala film that requires the audience to leave their brains at home and enjoy the rough humour. If you want to while your time away with a few laughs, then watch the film.
Amrit Pal Singh, civil engineer
Time pass
I like the fact that the film is not too heavy on one's head. It's a good time pass film and offers a decent humour. Also, the storyline is not all that bad. I do think that it is worth at least a one time watch.
Varun Gupta, student
Nothing serious
I like the first half of the film and it is similar to Dabangg, Singham and all these films, which define the Bollywood masala. However, the second half was not that good. It's a complete entertainment film, and is not for the people who like serious cinema.
Rohini Mahajan, student
Shahid
Shahid is a biographical film directed by Hansal Mehta and produced by Anurag Kashyap. It is based on the life of lawyer and human rights activist, Shahid Azmi, who was assassinated in 2010 in Mumbai. The film had its world premiere at the 2012 Toronto International Film Festival's 'City to City' programme in September 2012.
Honest take
I love the film and kudos to the honest depiction of law and order in the country. Films like theses have in them the potential to create and form opinions and that is what our country needs today.
Vikramjit Singh, student
Well executed
It is a very nice film and I do believe that every Indian must go and watch it at least once. It's a serious film and it's been handled as seriously. I love the film.
Niharika Sharma, Student
— As told to Amarjot Kaur

No hero can save this one!

Jasmine Singh
Film: Heer & Hero 
Director: Sagar S Sharma
Cast: Aarya Babbar, Minnisha Lamba, Gurpreet Ghuggi, Preet Bhullar, Yograj Singh
Rating: «
It comes back, like a bad dream, a bad prophesy…but something in you has gone numb, something in you doesn't react, nevertheless you want to run out of the cinema hall shouting help, help! If you experience the same while watching Heer & Hero save others from going through the same trauma.
Directed by Sagar Sharma, the same director who gave us Burraah, Heer & Hero tests your patience to the tee. Starring Aarya Babbar, Minisha Lamba, Preet Bhullar, Gurpreet Ghuggi and Yograj Singh, Heer & Hero will take you on a ride that you wouldn't forget in your life.
The story and screenplay is by Rajan Aggarwal. From the very beginning till the end, the story is one thing that you wouldn't find. All you can make out is three boys are fighting over a girl. You have won a million dollar 'pat' if you can figure out anything beyond this.
Sagar has done a below average job. In fact, this kind of a movie doesn't need a director to spoil the scene. Nothing at all in the movie seems to be connected. The director has virtually shot the entire movie in one or two or even three odd places so you wouldn't get to see the same locales here and there. Since we have already told you that the film lacks a story, it is simply wastage of time to talk about the dialogues. Varinder Vashisht and Sagar have shared the credit for writing the dialogues. All we heard in the name of dialogues was some incomplete screechy lines.
Since Sagar could not weave his magic, you could have expected something from the star cast. Ladies first, Minnisha Lamba. Bachna ai audience! Why have you done this Minnisha this is all we want to ask. Slipping into a salwar kameez is not exactly same as getting into skin of the character, for this you have to act as well! Next time please remember. Aarya Babbar, the actor who is doing considerably a good job lately, couldn't be put to use by the director . He is given constipated dialogues, which underplay his acting skill. As for the new actor, Preet Bhullar, bhaji eh ki kita tusi! The only surviving grace in the movie is Gurpreet Ghuggi. This half star is of course for him! And the other half for Aarya Babbar. Yograj Singh as usual is there, which is neither good nor bad for the movie.
Rest, if you are still hoping against hope, thinking you could count on the music, you aren't that lucky. Just thank your stars that you are out of this nightmare, next time keep your eyes open!

Bring on the biriyani!
Kandla Nijhowne
Vegetarian food is the happening thing. Most of my friends are resorting to light vegetarian meals, keeping in mind the festive season ahead! Some degree of self-control now would create a balance when we feast on shaadi-grub later. Satvik is serenaded for its cooling qualities, leading to equilibrium and clarity of mind and body. Milk, cereal, fruit and vegetables, ghee, butter, yogurt, cheese, daals, nuts and honey come under the satvik umbrella. Though I'm not a vegetarian, I enjoy a well-cooked vegetarian dish so long as it's not cooked to death. Overcooking implies that you have destroyed all the goodness within the raw food, resulting in a colourless mess, lacking nutrition, taste or texture. A biriyaani with seasonal veggies can be a delight when prepared by the dum-pukht method. Here, the pot is sealed off with dough along the edges of the lid, resulting in a sauna effect. No steam is allowed to escape. The food simmers in its own juices. A biriyani shovelled out of a pressure cooker dear reader, is not a biriyani! Go the long route sometimes. Do a slow cooked option and savour the flavour!
Hyderabadi vegetable biriyani
Ingredients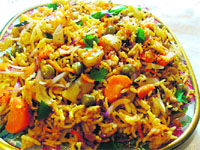 * 1 cup basmati rice
* ¼ cup desi ghee
* ¼ cup oil
* ¼ cup yogurt
* ½ tsp jeera
* ¼ tsp haldi (optional)
* 2 green chillies (sliced lengthwise)
* 1 tsp dhaniya powder
* ¼ tsp red chilly powder
* 1½ tsp salt
* 1 tsp freshly ground garam masaala
* 15 strands saffron
* 2 tbsp cashew nuts
* 2 tbsp raisins
* ½ inch piece cinnamon
* 2-3 black cardamom
* 1/8th tsp nutmeg (jaiphal)
* 2 bay leaves
* 4-5 cloves
* 3 green cardamom
* 10 peppercorns
* 2½-3 cups sliced veggies (cauliflower, capsicum, carrots,beans)
* 2 potatoes
* ¼ cup chopped mint leaves
* 1 onion, sliced
* Oil for frying onions.
Method
* Wash and soak the rice in water for 30-40 minutes
* Boil plenty of water with the whole masaalas in it. Add ½ tsp salt and tip in the rice.
* Cook till ¾th done. Drain.
* Soak saffron in 2-3 tbsp warm water. Keep aside.
* Heat up oil in a karhaai. Briefly fry the raisins and cashews, then remove and drain. In the same oil, fry sliced onions till well browned and crisp. Drain similarly and lay out on kitchen paper.
* Cut potatoes into fingers. Fry till golden and remove from pan.
* Add a little more oil and fry the chopped veggies in the same pan. Tenderise them but keep them crunchy.
* Add a little more oil and splutter the jeera. Add ginger paste, then green chillies, dhaniya powder and salt.
* Add haldi and garam masaala.
* Beat the yogurt till smooth. Add to the pan and keep stirring on a slow fire till somewhat thickened.
* Tip the veggies into the pot. Add salt and stir to combine.
* Take a wide, heavy pan. Smear it with minimal ghee. Add half the semi-cooked rice to it, them spread all the veggies evenly over it. Add the rest of the rice and spread over the veggies.
* Now melt the ghee and sprinkle over the top. Scatter most of the nuts and pour the saffron infused water over the surface.
* Take a stiff dough (atta) and roll out into a rope. Use this "snake" to seal a tight fitting lid on to the pan. Press well to secure.
* Remove from fire. Peel away the dough, stir gently to mix the contents, garnish with nuts and onions and serve with raita.
(Nijhowne is a Chandigarh-based culinary expert)

Mane point
Karan Saggar, a second year BDS student is out and out for a sophisticated look and we too feel that when elegance is combined with the latest trend, it becomes a 'wow' combination which would turn many a head.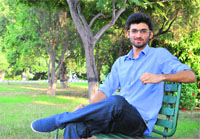 Your sense of style?
For me style denotes a well-groomed look, especially the hairstyle one supports.
The latest addition to your treasure of clothing or accessories?
My shades from Oklay and shoes from Aldo.
Brand crazy or street pick-up?
I personally stick to brands only and maybe street pick-ups for gym wear.
Who is your style icon?
Hritik Roshan.
Who do you think is the worst-dressed celebrity?
Hmmmm! Can't seem to pinpoint anybody. Everybody has their own style.
Which look would your prefer - sporty, chic or glamorous?
Sporty for me.
One fashion trend that goes beyond your comprehension?
Jeans, pants and shirts in loud colours don't gel with me.
Your take on accessories?
Only a wrist band from Being Human, besides the customary wallet and belt.
What gives you a high on the confidence level?
Whenever I enter a room and feel that I am being noticed I feel super confident.
As told to Poonam Bindra

Words are all he has…
Rajbir Deswal's twelfth book Melting Frozen Glow, an anthology of poems, reflects the softer side of this super cop
Jasmine Singh
Words cascade down effortlessly, he picks them up carefully lest they lose their fragrance, he puts them together admiringly, and later sits down to arrange and rearrange them with precision, just like a master craftsman. Rajbir Deswal knows the importance of words and what difference they make to the heart, mind and ears. His twelfth book, which is an anthology of poems Melting Frozen Glow released by Rahul Singh, is a basket that carries all kinds of flowers. The song of the birds, the enticing nature, of soulful renderings…..everything is frozen in the glow of words.
"For almost 5-6 years, I have been exploring poetry, just observing things around, pretty much keenly, things that make sense and even those that don't make sense but appeals to my senses. It could be a flower, a bird, a stone, nature just about anything," shares Rajbir Deswal, commissioner of police, Ambala and Panchkula.
A collection of 165 poems, the book is divided into various parts, In the Lap of Nature, The Way Life Is, Spiritual Hues, Role of Seasons, Body and Mind, Mystic Haze to name a few under which various thoughts find shelter.
The busy officer does not make a conscious effort to write poetry, he doesn't vanish into the wild and come back with the poems. Instead, "I don't have the words to describe the process because it is so natural. I don't force myself to sit down with a pen or paper. I observe things around me and make mental notes of it on my Ipad or phone , it could be anything out of the box, it can be imaginary situations, or even something in flesh and blood; it could be nature, birds, anything and everything that grabs my attention. Thereafter, sit to write and then the lines come calling, naturally," he says.
Deswal, an already known figure in the literally circle, who has written umpteen stories, middles, travelogues, is never far away from the magic of words. "For a poem to come alive I don't have to strictly follow certain grammatical rules, this is something that takes its own course, though I have used alliterations and all other embellishments and a beautiful rhyming scheme that make the words pleasing to the ears. I move in an open space, I don't confine my thoughts to a style or format ," says Rajbir Deswal.
So does this hard core cop melt on certain situations? He smiles softly, "Both rub on each other but in the right way. Sometimes, these words work as pills to handle tough situations, and most of the times under these words; I also find myself and my sanity."
Rajbir Deswal weaves the magic of his words in his book that took him almost an year to compile. This process goes on as words keep flowing...
jasmine@tribunemail.com

Friends are forever
Divya Dutta
I had to fly to Jodhpur for an event. I met Sonali Bendre and Tabu on the flight. There is something strange about our industry. You meet lovely people at work, you connect and then you move on to other things. It becomes difficult to stay connected. The pace and demand of the city and the profession takes the better of you...even though you intend to stay in touch. Sonali and Tabu have been two such people in my life.
Sonali and I trained together in Stardust and when I fell off the horse and had multiple fractures, she took care of me...fed me, dressed me up. A true friend! Even in our early years, she used to come for a home stay and we indulged in girly talks. Then she got married and I got busy, the intent remained. But we lost touch.
With Tabu, one of my favourite actors, I'd worked on a film. Tabu doesn't really socialise much but we got along like a house on fire. Bonded beautifully, then later, we occasionally bumped at film events. The intent remained to meet but we lost touch.
Mumbai is such a city. It absorbs you so much that you don't realise where the day went by! Who you missed out talking to, but when you are out of the city with time on your hand, you tend to pick the threads at leisure!
That's what happened with these lovely ladies.
We were chatting away big time on the flight and then the two invited me to have dinner with them after my event. Catching up on the years, poetry, life, we discussed it all. There's a certain magic in bonding with your female friends, you derive strength. It didn't seem that we hadn't met for years. Sonali called me later to check if I was okay at the event. I was touched by her concern.
On the flight back, we were together again as we landed. Tabu shook my hand tight and said, "Now don't disappear. That warmth, that bonding, that girl power, can't explain! But to rediscover friendship, it gives you immense happiness especially with people you have a lot in common with.
These two lovely friends. I am glad I met and bonded again, with a promise to defy the city, and continue meeting. This time at my place for rajma chawal..woh bhi ma ke haath ke! Love you both!
(Dutta is a Bollywood actress)

Oh! fish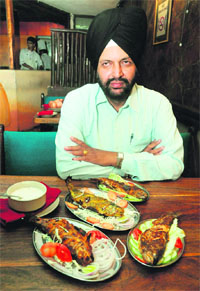 Fish lovers have reason to rejoice. The delicacy of Himachal Pradesh known for its mild flavour, the trout fish will now be made easily available in Chandigarh by the Fishery Department of Himachal Pradesh. Gurcharan Singh, director, Fishery Department, Himachal Pardesh says, "All over the world people come to Himachal to savour the trout fish. Now, we our trying to promote this delicacy across the region starting with Chandigarh. The Fishery Department would soon open an outlet. For the purpose, a two-day fish festival is also being organised at Himachal Bhavan."
Chef Sanjiv of Pashtun says "It's a treat to cook trout skin-on, just sprinkle salt and pepper and, then sear in a hot saute pan. This will create a golden, flavorful surface for great presentation. Total cooking time will be only about five minutes, because the fish is so delicate. As you eat it, the cooked flesh easily lifts away from the bone. The sauce of lemon juice and butter is just the right delicate enhancement, with flavour of fresh lemon providing sharp counterpoint. Peppers contribute sharp saltiness, and chopped coriander gives fresh flavor and bright colour."
Pan fried trout with garlic and lemon
Ingredients
* 2 x 200 gm trout filets
* 1 tbsp of olive oil
*2 tbsp of lemon juice
* 2 cloves of garlic, finely chopped
* 1 Tbsp of finely chopped coriander
* 4 large yellow potatoes, peeled and quartered
* 1/4 cup of milk
* 1 Tbsp of butter
* 1 tsp of sea salt
* 1 cup of cherry tomatoes
* Olive oil for drizzling
* Salt
* Freshly ground black pepper
* 1/4 tsp of lemon zest
Preparation
* Place the tomatoes in a frying pan. Drizzle with olive oil and sprinkle on salt and pepper. Sprinkle on the lemon zest. Saute for five minutes.
* Add the potatoes to a pot of cold water. Boil the potatoes until soft (about 20 minutes.) Drain and then add milk, butter, salt and pepper. Mash well and then cover and set aside.
* Meanwhile, in a medium fry-pan heat the olive oil over a medium heat. Add the garlic and saute for 30 seconds. Now, fry the fish skin side down for 5 minutes.
* Turn the filets over and then fry for two minutes. Turn them over skin side down again and turn off the heat. Squeeze the lemon juice over the filets and add about 2 tsp of butter. Sprinkle on finely chopped coriander. Season with salt and pepper.
* Serve fish with a side of mashed potatoes and roasted tomatoes.

Sizzle your taste-buds
Hometel Hotel, Chandigarh is organising Sizzler Food Festival, Season 2. The festival is being organised at the open-air Terrace Grill in the evenings. The beautiful ambience of the open air restaurant lends a perfect match to the sizzling sound of the food and creates a harmony with soothing echo of the tranquil water body.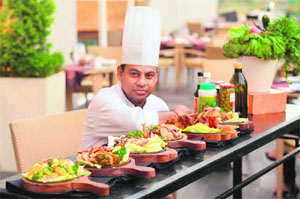 Celebrate the taste of smoky sizzlers with a variety of delicacies in vegetarian and non-vegetarian food. The culinary skills and aromatic flavour of the food suite all. With enticing aroma of succulent sizzlers from India, Lahore, Oriental countries, Mexico, France, Italy, North American and Mediterranean region, skillfully prepared by our executive chef Dipayan Chanda at Terrace Grill, the festival keeps its spirit of serving the best sizzler from all around the world.
Starting from the Oriental prawns tossed in burnt chili flavours, chappli kebab marinated with traditional Indian spices, juicy cajun spiced chicken served with smoked mushroom sauce, lobster newbery, a heavenly dish marinated with virgin olive oil and flavoured with grape brandy, beckti saint Rapheal marinated with Portugese spices and chimi churi sauce, lamb in pot and pescado ala ranchero are some of the variety that melt in your mouth.
Vegetarian sizzler specialties are mix grill kebab, mezze platter and creole paneer tikka marinated with creole spices, enchiladas, cottage cheese escalope, chimichangas, spinach and mushroom crepes and exotic vegetable tacos.
Finish your meal with desserts from the house like homemade apricot ice-cream, homemade fig ice-cream and steamed chocolate pudding. Take your pick. — TNS

Living life on her terms...
Soha Ali Khan is in a happy and secure place. She is close to her family, her love life is sorted and she has decent films in her kitty. She talks about celebrations and living life.
Durga puja
As a family, we celebrate different festivals which include Navratri and Durga Puja. This year, Kunal's (boyfriend Kunal Khemu) mom made me promise that I would turn vegetarian for two days during the festival (laughs). I remember the time when we attended the Durga Puja in Kolkata. It felt like a carnival with colourful clothes and delectable Bengali delicacies. Since we belong to the Tagore clan, people showered us with a lot of love and warmth.
Playing dandiya
Recently, I was in Jaipur for my film's promotions. It is so interesting to experience the different colours and moods of different cities. I played dandiya for the first time in front of a huge crowd. Thankfully, my co-star Sharman Joshi taught me how to move the dandiya sticks. It was easy to learn because I love dancing.
Bengali connection
When I was in Delhi, we spoke Hindi and Urdu at home. I can speak Bengali though not fluently; I have done two Bengali films. I remember when Saif and I would do some mischief, mom would start scolding at us in Bengali. I would then say that contrary to what people say, it is not a sweet language (laughs) at all. Mom counts cash and calculates expenses too in Bengali.
Privileged lifestyle
I have many people to look after me - security staff, driver, spot boy to name a few. I eat after every two hours and my staff helps me do that. My hairdresser gives me a good foot and head massage to de-stress me. I am not a party person, as most parties begin at 11pm and end at dawn. I hate keeping late nights. Even while shooting out doors, I am back in my hotel room at 10 pm to catch up on my eight hours of beauty sleep.
My identity
I have always been a headstrong person. I like the fact that my mother and brother are well-known actors. But I wanted to carve my own identity in films. Thankfully, the nine years that I have spent here have been fulfilling. Whenever I am in doubt, I take mom's advice. Also, my directors supported me with their suggestions and feedback like the late Rituparno Ghosh, Sudhir Mishra and Tigmanshu Dhulia. My most memorable role is the one in Khoya Khoya Chand. It was a huge compliment when mom said that I did justice to my role.
Aiming high: Soha Ali Khan

P.K. lands in trouble
Rajkumar Hirani is worried about his production controller who is in judicial custody for last three days. He is checking on him every hour. Over the years, Bollywood has faced a lot of problems while making a movie. This time a debacle has been thrown in front of a big movie. While on the shoot of Rajkumar Hirani's next P.K. at Delhi, a MLA has filed a FIR against the movie.
P.K. which is currently on the second schedule of shoot along with the extras, were shooting a scene where a man dressed as Lord Shiva is sitting in a rickshaw with two burqa-clad women.
Rajkumar hirnai who is currently shooting for P.K. in Delhi is checking on his production controller in every hour. The director is hoping for his project controller to get out at the earliest and resumes work. Rajkumar is also in touch with his family.
The spokesperson for the movie adds, "Raju Hirani's unit is like a family unit and Raju Sir is very close to all. So he has been worried about the well being of his production controller. He is seen frequently checking on his well being."

Kangana in for image change
Actress Kangana Ranaut, who will be next seen in Rajjoo, says that she gives more importance to commercial success than critical acclaim. She says, "Critical acclaim is not important to me. Critics are just a small group of people who express their personal opinion about the film and performances. For me box officer acclaim matters the most. If my film is accepted at the box office and makes money it makes me happy. If a film earns 100 crore it means a vast majority has liked it and that's what matters ultimately. I wouldn't mind even if critics dislike my movie. Critics form a small minority."
The actress would now be seen playing a mutant with supernatural powers in Krrish 3. The role required Kangana to perform grueling stunt scenes.
Admitting that it was difficult to reprise the role, Kangana says, "We had an action director from China who had flown down to teach us the Chinese style of fight which was very difficult to do. But thankfully I have been performing somersaults and other kinds physical exercises like stretching right from my childhood. So these came to my aid in learning these stunts."
Well, it's finally good to see Kangana not play a psychotic role for a change.
Action time: Kangana Ranaut

Ship of Theseus goes to Australia
Months after its release, Ship of Theseus continues to create buzz on Indian and foreign shores. Actor Sohum Shah and director Anand Gandhi's Ship of Theseus are ready to set sail to foreign shores, and this time there's an international star who is steering the ship. Film personalities have been getting involved with independent films as presenters for quite some time in Hollywood. The trend has seen filmmakers like Quentin Tarantino and Martin Scorsese presenting films like Chungking Express, Hostel and The Grandmaster.
Kiran Rao had seen Ship of Theseus at a film festival in Mumbai, where the filmmaker, Anand Gandhi was felicitated. She was so overwhelmed by her experience of the film, she felt more people should get the opportunity to watch it, and in July 2013, the film was released to pack houses across the country. The stupendous success of Ship of Theseus has made this approach desirable for other independent filmmakers.
Now, for the first time ever, an Indian film is being presented to foreign audiences by an eminent international film personality. The legendary actor Hugo Weaving (The Matrix, Cloud Atlas, Lord of the Rings, V for Vendetta) will be presenting Ship of Theseus to audiences in Australia.
Filmmaker Anand Gandhi and Hugo Weaving were part of the jury panel at the Sydney International Film Festival, where they became extremely good friends. The film also played at the festival, where Hugo had a chance to watch it.
"Ship of Theseus is an absolutely rare and profound piece of cinema, full of wonder and enlightenment. Anand Gandhi has proved himself as a groundbreaking filmmaker," says Hugo.
Gandhi is delighted that his friendship with Weaving. "Hugo is one of the finest actors in the world, and one of the most amazing people I have had the privilege to meet. It's such an honour that he is now presenting the film in his country." The film is set to release on November 7th across Australia.

What Esha loves …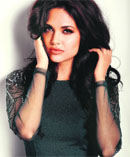 Esha Gupta has a shoe fetish. She has travelled to many places around the world and as mementos; she collects shoes from every country she has visited. She has a separate section in her house dedicated to shoes as she loves shoes in different colours and types.

Body basics
Sidharth Malhotra has hit the gym with a vengeance to build his physique for The Villain. His trainer has set a new benchmark and he is attaining a bulky physique through the challenge. His female fans will love him even more now!

Kiss & tell
After locking lips with Parineeti Chopra and Vaani Kapoor multiple times in Shuddh Desi Romance, Sushant Singh Rajput is likely to share a steamy kiss with Anushka Sharma in PeeKay in the ongoing schedule. What will his girlfriend Ankita Lokhande say about this?

Four in one!
Farhan Akhtar is a director, singer, actor and producer and he has four assistants managing each portfolio of his so that his work flows smoothly in an organised manner.
More to merit: Farhan Akhtar

Real to reel
Gulshan Grover's character in Sooper Se Ooper is modelled after the late famous painter MF Hussain. He will be seen carrying a brush and walking barefoot throughout the movie, trademarks of MF Hussain.
Inspired act: Gulshan Grover

Sara wants to dance
Sara Khan and her boyfriend Paras Chhabra might be one of the couples on Nach Baliye 6. Apparently they are talking to the makers but the deal hasn't been signed yet. Both are shooting a film in Ratnagiri, Maharastra and with the first episode of Nach Baliye due for shooting on October 21and 22-it seems dicey.

Beauty & Roadside Romeos
Hunar Hali had a scary experience recently. While shooting in Bhopal for Ek Boond Ishq, she went shopping. But soon some boys started following her. She had to go to a store and call a unit member for help. This incident shook her up a lot.
Bad time: Hunar Hali

Tara's diary
The Tara Sharma Show will soon be back with season 2 on NDTV Good Times. After the success of season 1, she agreed to do another round. The show called The Tara Sharma Show—Diaries of a New Mum- Season 2 will be shot in a dairy form talking about her experiences as a new mum.

The year ahead
Madan Gupta Spatu
If your birthday is October 19...
The year is a good one to follow religious and spiritual interests. Investment made will enhance your prosperity and financial security. Time to revive your friendship. The sun makes you strong, truthful, reliable, confident, responsible and creative. You may inherit ancestral property or purchase one. The romantic life would be exceptional. Expectant mother should take special care while walking. Unsecured investment should be avoided. Someone may try to cause you some harm. Motivate yourself to be more optimistic. A good year for romance.
Positive colours: Golden yellow, chocolate brown, beige
Select days: Sundays & Mondays
Favourable numbers: 1,2,4,7
Gems recommended: Ruby, natural spinel, fire opal .


Well built and good looking. Sunny Deol (Ajaysingh Dharmendra Deol October 19,1956) shares the great day with you. He debuted in the super hit Betaab. Sunny's biggest hit to date was Gadar-Ek Prem Katha. Sunny's stars promise a big award in 2015 in film world.

Astro Turf
P Khurrana
ARIES: Turn your attention to money matters and budget. Go over the figures and see where you stand. If there are problems, discuss them with partners or close associates.
Tarot message: Do not swing away from the course you have charted so far.
Lucky colour: Yellow
Magic number: 49
TAURUS: Enjoy friendly gathering in your neighborhood. Luck is on your side and good things will come your way. With love partners, co-workers and even rivals, you will be favoured.
Tarot message: Be positive and think carefully before taking action.
Lucky colour: Beige
Magic number: 64
GEMINI: Listen to your heart, regardless of what your head keeps telling you. Are you doing something to please somebody? If the answer is yes, then it is time for you to reassess your motives.
Tarot message: Use your instinct to get into the top circle of power.
Lucky colour: Burgundy.
Magic number: 30
CANCER: Enduring relationships can be formed with new people who live at a distance. Stick to your regular job as it the best way of boosting your reserves.
Tarot message: Learn from past experience and desist from making a similar mistake again.
Lucky colour: Silver
Magic number: 52
LEO: Older people and family commitments can take up your time early. Don't try to dodge your commitments, as the ramifications will stay with you for a long time.
Tarot message: Be articulate to prevent people from making their own conclusions.
Lucky colour: Purple
Magic number: 60
VIRGO: A recent training or practice programme should pay off big time today. Enter a competition that will stretch your abilities and offers a prize. Misunderstandings will start to clear away.
Tarot message: Dare to accomplish those tasks which normally take up a lot of time.
Lucky colour: Golden yellow.
Magic number: 42
LIBRA: A joint meeting will be held to review the situation and plan a future strategy. The married will have an interesting day. No need to worry about your health.
Tarot message: Take thing one at a time instead of multi-pronged attacks.
Lucky colour: Orange
Magic number: 55
SCORPIO: The eligible will decide to get married, and will obtain the approval and blessing of their family. A misunderstanding with a relative will get cleared. Do not spoil your chance by being rash.
Tarot message: Listen carefully to the words of wisdom even if you do not relish.
Lucky colour: Blue.
Magic number: 65
SAGITTARIUS: A slow moving day. Lovers: you are surely going to enjoy today's meeting. Women will pass through a period of depression. Domestic matters proceed well.
Tarot message: You will receive a useful tip at the stock exchange which can be put to profitable use.
Lucky colour: Red
Magic number: 28
CAPRICORN: Students, you are unlikely to face financial problem today. Work prospects improve. Do not argue with elders. Do not push the point, let it go and you will find out what it is in due course.
Tarot message: Allow a sick situation blow over before you start a new project.
Lucky colour: Green.
Magic number: 58
AQUARIUS: You are unlikely to be in the mood to start new jobs. Health could put a damper on your plans. The opportunity to exercise and benefit from your natural talents is highlighted.
Tarot message: Remember never to fall for rash promises.
Lucky colour: Grey.
Magic number: 29
PISCES: Look forward to a fulfilling day. Let your imagination go and enjoy the creative ideas that manifest. You are likely to be oversensitive to others. Love affairs could easily start as the result of a journey.
Tarot message: Try a new off beat style of handling things.
Lucky colour: Pink.
Magic number: 44