Baghela school a sign of moribund system
Only three teachers for overall strength of 424; students sit amid generators, ROT devices and perform mason's job
Aparna Banerji
Tribune News Service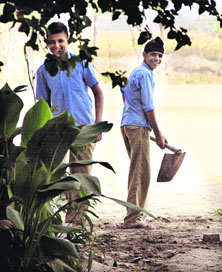 A student holds a shovel at Government Secondary School, Baghela, in Nakodar. Tribune photos: Sarabjit Singh

Nakodar, October 23
A visit to Government Secondary School, Baghela, in Nakodar reminds one of what is moribund about our education system. A small classroom that houses a generator is packed to its capacity with 90 students, some of whom are seen plastering the floor during free time. Three teachers are taking care of 424 students at the school.
There are 12 sanctioned posts of teachers in this school — two each for math, science and social studies, one each for physical education, drawing, classical, Hindi, English and Punjabi. Of the 12 posts, only three teachers (one each for Hindi, social science and Punjabi) are taking care of the total 424 students here.
Out of this, there are 141 students from Class VI to VIII, 151 students from Class IX to X and 132 students from Class XI and Class XII.
When The Tribune team visited the school, only two teachers were present while one had reportedly gone to attend a seminar. Even as the Class XI-XII students need at least five teachers and one principal, no posts have been sanctioned for them so far.
Two computer teachers at the school go to teach at two primary schools nearby twice a week. Four PTA teachers have been hired with the help of the local panchayat for whom Rs 105 per month are charged from the students of Class XI and Class XII.
The school has only two clerks while the third is on leave without pay for the past five months. One of the clerks has to do the watchman's duty at night. It was also learnt that sending the postal material sought by the Education Department occupies half the time of the school staff.
While as per the RTE Act norms, the school should have at least 13 rooms (one room for 35 students), there are only five classrooms and two laboratories.
Some sections adjust as many as 85 to 95 students.
The ROT (Edusat) room, library and generator room are used as classrooms. The practical laboratories for mathematics, science and English are housed in a single room. The English lab section has been lying unattended for months as there is no English teacher in the school.
The staff present said even as they regularly keep informing the Education Department about the need for more rooms in the annual DISE report, the request has not been granted. At least Rs 45 lakh is needed for the construction of new rooms.
The Classes XI-XII were started in 2003 at the school with the panchayat's promise of providing help. The panchayat backed out and requests to upgrade the school to senior secondary have fallen on deaf ears for the past one year. The Classes XI-XII are currently running on funds from other allowances and PTA.
The staff said they get many admission requests from those students who are either dropouts or were unable to clear their examination.
Sorry state of affairs
While there are 12 sanctioned posts of teachers in this school, only three (one each for Hindi, social science and Punjabi) are taking care of the total 424 students
The Class XI-XII students need at least five teachers and one principal but no post has been sanctioned for them. Four PTA teachers were hired with the help of the local panchayat. To pay these teachers, Rs 105 per month is charged from the students of these classes
The school has only two clerks while the third is on leave without pay for the past five months. One of the clerks has to do the watchman's duty at night
As per the RTE Act norms, the school should have at least 13 rooms (one room for 35 students) but there are only five classrooms and two labs
The ROT (Edusat) room, library and generator room are used as classrooms
Victim of apathy
The school staff claims they keep informing the Education Department about the need for more rooms in the annual DISE report, but the request has not been granted
The Classes XI-XII were started in 2003 with the panchayat's promise of providing help which later backed out
These classes are currently being run on funds from PTA and other allowances