LIFE+STYLE

CHANDIGARH

LUDHIANA

BATHINDA

JALANDHAR

AMRITSAR TRIBUNE

JALANDHAR TRIBUNE

BATHINDA TRIBUNE

JAMMU TRIBUNE

KASHMIR TRIBUNE

DELHI

DEHRADUN

DEHRADUN PLUS

coal scam
SC rejects plea for FIR against PM
New Delhi, October 29
The Supreme Court today rejected a plea for registration of an FIR against Prime Minister Manmohan Singh in connection with the coal block allocation scam.
Flag meet
India, Pak to keep calm along border
Octroi BOP (Indo-Pak Border), October 29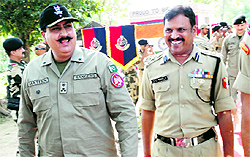 Officers from the BSF and the Pakistan Rangers met for nearly three hours today and agreed to ease 10 days of intense shelling by Pakistan.

Brigadier Mateen of Pakistan Rangers with BSF DIG JC Singla during flag meeting in RS Pura on Tuesday. A Tribune photograph



J&K page: Pak army targets posts in Rajouri
Fighter pilot Raha to be next IAF chief
New Delhi, October 29


Ace fighter pilot Air Marshal Arup Raha has been appointed the next Chief of the Indian Air Force. He will succeed Air Chief Marshal NAK Browne, also a fighter pilot, on December 31.

Air Marshal Arup Raha

OTHER PAGES

PUNJAB: Oppn gets additional time slot to raise vital issues


HIMACHAL: 5% surplus power to be mandatory to curb cuts


CHANDIGARH: UT police in the dock


LUDHIANA: Rs 3 lakh looted


DELHI: Vardhan failed to make his mark as Health Minister: Cong

OPINIONS: Online behaviour

NATION: Kutch farmers blame 'minority profiling' for their plight


SPORTS: Big-hitting Aussies have six-appeal

WORLD: US may ban spying on allied leaders



Lahore Log

The tribune guide to best colleges

Budget
2013-14

INDIA CHINA WAR 50 YEAR LATER

EARLIER FEATURES
India, Peru sign pacts to boost education, defence
Lima, October 29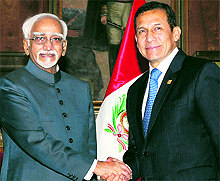 India and Peru have signed four agreements in the presence of Vice-President Hamid Ansari here to promote bilateral cooperation in the fields of education, culture and defence and to set up a joint commission to diversify relations.

Vice-President Hamid Ansari with President of Peru Ollanta Humal in Lima. — PTI

UP gold hunt abandoned
Lucknow, October 29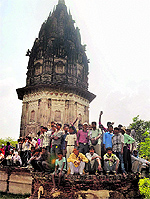 Local seer Shobhan Sarkar's dream about 1,000 tons of gold buried in the depths of the historic fort at Daudikalan village in Unnao had become a nightmare for the Archaeological Survey of India (ASI). Finally, excavation was abandoned today after 11 days of high drama which caught international attention. As the misadventure had become increasingly difficult to explain due to media hype, better sense appears to have been prevailed.
Mastermind in police net
October 29, 2013
Blasts at Modi's Patna rally; 5 dead
October 28, 2013
Entire 26/11 proof with Pak: India
October 27, 2013
Storm over Rahul remarks
October 26, 2013
PM open to CBI quizzing on coalgate
October 25, 2013
India, China ink landmark border pact
October 24, 2013
Defuse border tension, Shinde to forces
October 23, 2013
Omar warns Pak on ceasefire violations
October 22, 2013
Army's claim over Keran ops under lens
October 21, 2013