Four-day Mussoorie Writers' Festival from November 7
Ajay Ramola
Tribune News Service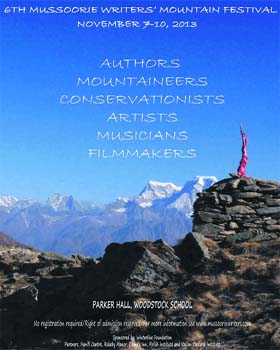 A poster of the Mussoorie Writer's Festival. A Tribune photograph
Mussoorie, November 4
More than 25 authors, mountaineers, outdoor educators, artists, conservationists and performers from across the world will participate in the 6th Mussoorie Writers' Festival beginning at Woodstock School, Hanifl Centre, here from November 7 to 10.
Well-known writers, namely William Dalrymple, I.Allan Sealey and Mamang Desai, will be delivering lectures during the festival.
A special series of talks on outdoor education will feature John Gans, executive director, National Outdoor Leadership School, Mark Vermeal, VP for safety with Outward Bound USA, and Prof Simon Beames of Edinburgh University.
Mountaineering legend Krzysztof Wielicki, known for his first winter ascent of Mount Everest in 1980, first one-day ascent of the Broad peak (8,000 m) in 1984, climbing the Manslu peak from new routes in 1984 and 1992, first winter ascent of the Kanchenjunga peak in 1986, first winter ascent of Lhotse (solo) in December and scaling the Shishapangma peak by new route on the south face solo in just 24 hours, will give a presentation on "Polish winter exploration in the Himalayas".
Other eminent mountaineers include Daniele Nardi, Dawa Steven Sherpa and Freddie Wilkinson.
Omair Ahmad, author of "The Kingdom at the Centre of the World: Journeys into Bhutan", a work on political history, and "Jimmy the Terrorist" that was shortlisted for the Man Asian Literary Prize will also grace the occasion.
DR Purohit, English Professor at HNB Garhwal University, Srinagar, Uttarakhand, and founding director of the Centre for Folk Performing Art and Culture, will be showcasing a scene from Garhwali Mahabharata play titled "Chakravyuh" at Silverton ground on November 10.
The festival includes the performance of "Vintage Rock 'n Roll" from the Highlands of Shillong, an exhibition of Tibetan Tangkha paintings by artists from Kathmandu and a Pandavlila performance by folk artists from Uttarakhand.
Woodstock will also be organising the second Mussoorie half marathon on November 10.
The founder of the mountain festival, Stephen Alter, said the objective of the festival was to bring experts on mountains under one roof and share their experience with the people and students of the town, so that they are enriched and become more aware about the fragile environment.