BJP slams govt on Modi security, Cong says no SPG cover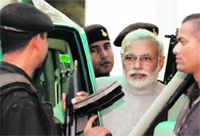 New Delhi, November 6
The BJP and the Congress-led UPA have locked horns over security protection to Narendra Modi, with each side accusing the other of playing politics over the threat perception to the Gujarat CM.
SAD to contest 4 Delhi seats
Chandigarh/Delhi, November 6
The Shiromani Akali Dal began finalising the names of its candidates after the BJP today allocated four constituencies to the party for the forthcoming Delhi Assembly elections. The meeting was attended by SAD Delhi unit leader Manjit Singh (GK), senior Akali leaders BS Ramoowalia and Naresh Gujral, BJP leaders Rajnath Singh, Sushma Swaraj, Arun Jaitley, Venkaiah Naidu, Ramlal and Delhi BJP election in-charge Nitin Gadkari.
Trainee IAS officer killed, 4 hurt as vehicle hits tree in Moga
Moga, November 6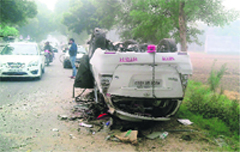 A 26-year-old trainee IAS officer from Bihar was killed and three of his colleagues were injured in a road accident on the Moga-Barnala road, around 15 km from here, early today.
The vehicle that rammed into a tree on the Moga-Barnala road. A Tribune photo