LIFE+STYLE

CHANDIGARH

LUDHIANA

BATHINDA

JALANDHAR

AMRITSAR TRIBUNE

JALANDHAR TRIBUNE

BATHINDA TRIBUNE

JAMMU TRIBUNE

KASHMIR TRIBUNE

DELHI

DEHRADUN

DEHRADUN PLUS

Will give Pak benefit of doubt but not at India's cost: Khurshid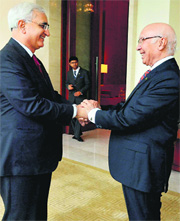 New Delhi, November 11
Amid strain in ties with Islamabad, External Affairs Minister Salman Khurshid will meet Pakistan Prime Minister's Adviser on Foreign Affairs Sartaj Aziz tomorrow evening on the margins of the Asia-Europe Meeting (ASEM) in Gurgaon.



India, Pak for better Asia-Europe ties

Foreign Minister Salman Khurshid with Pak PM Nawaz Sharif's adviser Sartaj Aziz in Gurgaon on Monday. — PTI
Punjab ex-DGP says Zail, Buta played dubious game
Blames KPS Gill for lapses in Longowal's security
New Delhi, November 11
Retired Punjab DGP Kirpal Dhillon has blamed former President Zail Singh and former Home Minister Buta Singh of playing a "dubious game" meant to scuttle whatever the Rajiv-Longowal accord-signed in 1985-meant to achieve.
OTHER PAGES

J&K: Diplomatic efforts bear fruit, no Pak firing in 10 days


HIMACHAL: Vigilance grills Anurag for 2 hours


CHANDIGARH: Whiff of big wheat scam


LUDHIANA: Woman dies in train mishap


DELHI: 200 jhuggis burnt in Ghazipur fire

OPINIONS: Standing tall


BUSINESS: Trade deficit widens, but exports jump to $27.2 bn


SPORTS: Go get a 400, Lara tells Sachin

WORLD: Philippines struggle to help typhoon victims


Lahore Log

The tribune guide to best colleges

Budget
2013-14

INDIA CHINA WAR 50 YEAR LATER

EARLIER FEATURES

Punjab druglord Bhola, four aides held near Delhi
Patiala/Rajpura, November 11
Dismissed Punjab Deputy Superintendent of Police Jagdish Singh Bhola, alleged kingpin of an extensive drug network in North India, along with his four associates was arrested from an eatery on the GT Road at Ghanaur, near New Delhi, today.
PIL in SC to end use of 'my lord'
New Delhi, November 11
A PIL plea for banishing the continued use of "my lord and your lordship" to address the judges came up for hearing in the Supreme Court today, but no arguments could be advanced as Justice Ranjan Gogoi, sitting alongside Chief Justice P Sathasivam, opted out of the case.


Punjab land grab: Justice Kuldip Singh Special Tribunal Report Part-III
Self before service in Bartana village deals
Chandigarh, November 11
While dwelling on the issue of grabbing of the shamlat and panchayat lands, the Special Tribunal headed by Justice Kuldip Singh brought out how Kuldip Singh Minhas, Director, Consolidation of Holdings, Punjab, himself became the beneficiary by passing an illegal order regarding the partition of a shamlat land in Bartana village.
Hooda pleases all at Gohana show
November 11, 2013
Apex court stays Gauhati HC verdict on CBI status
November 10, 2013
Govt to challenge HC order on CBI formation
November 9, 2013
Gauhati HC questions CBI validity
November 8, 2013
Rahul vows panchayat empowerment in J&K
November 7, 2013
India blasts off in race to Mars
November 6, 2013
UK scraps contentious visa bond plan to check overstay
November 5, 2013
JD(U), BJP spar as Modi revisits Bihar
November 3, 2013
Oust-Congress chorus at INLD rally
November 2, 2013