LIFE+STYLE

CHANDIGARH

LUDHIANA

BATHINDA

JALANDHAR

AMRITSAR TRIBUNE

JALANDHAR TRIBUNE

BATHINDA TRIBUNE

JAMMU TRIBUNE

KASHMIR TRIBUNE

DELHI

DEHRADUN

DEHRADUN PLUS

Tendulkar bows out on emotional pitch


The king's speech

CNR Rao: A Master Blaster among scientists
Bangalore, November 16


"I think basic sciences are finally getting their due recognition". That is how CNR Rao reacted when asked by journalists here today about his being conferred the Bharat Ratna, the country's highest civilian award. Rao never was very happy with Bangalore's emergence as the IT capital of India.
Angry over girl's 'rape' by teacher in Bhiwani, villagers lock school
Bhiwani, November 16
Haryana's rape shame continues. Ten days after a class X student belonging to a Dalit community was allegedly raped by a teacher of Nigana Kalan government high school in Bhiwani district, angry villagers today thrashed the accused and locked the school gates.
Punjab Land Grab: Justice Kuldip Singh Special Tribunal Report Part -VIII
'Well-planned land grab scandal' around Chandigarh
Chandigarh, November 16
Dwelling on the issue of Shamlat Deh lands in Saini Majra village, near Chandigarh, Justice Kuldip Singh Special Tribunal mentioned "a very well planned land grab scandal", which flourished with the collusion of the revenue officials with certain influential persons.

OTHER PAGES

HARYANA: BJP is opportunist, keeps changing its colours: Speaker


HIMACHAL: Electronic ration cards to be linked to Aadhaar cards


CHANDIGARH: UT Admn, MC to bulldoze Colony No. 5 on November 20


LUDHIANA: Patwaris fleecing public


DELHI: Routine exercise by CBI, says CM

OPINIONS: Low-cost high-speed trains on track

SPORTS: The king's speech

WORLD: Yameen upsets Nasheed, elected Maldives Prez in run-off


Lahore Log

The tribune guide to best colleges

Budget
2013-14

INDIA CHINA WAR 50 YEAR LATER

EARLIER FEATURES
BHOLA'S DRUG RING
Accused used VIP cavalcade to pass drugs
Banur/Patiala, November 16


The questioning in the multi-crore drug seizure involving main accused Jagdish Singh Bhola has revealed how the gang members used, on more than two occasions, the VIP cavalcades of politicians to pass drugs in their own vehicles.

Punjab page: Drug expose fuels political blame game
INS Vikramaditya inducted into Navy
Severodvinsk (Russia), November 16
The much-awaited $2.3 billion aircraft carrier, INS Vikramaditya, was today inducted into the Indian Navy in a strategic boost to India's maritime warfare capabilities.

Perspective:


Navy's dream carrier packs a punch


In Asia, India ahead of the race


In MP's battle royal, Scindia scion locks horns with his aunt
Gwalior, November 16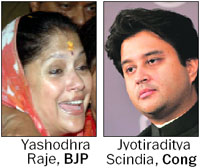 Something rather unusual has happened in Madhya Pradesh assembly elections due November 25. Going against the Scindhia family traditions, Union minister of state for energy Jyotiraditya Scindia, who is also the chief of the Congress campaign committee, campaigned against his aunt, Yashodhra Raje, the BJP candidate from Shivpuri.
Only BJP in favour of opinion polls
November 16, 2013
India, UK to deepen trade ties, boost investments
November 15, 2013
Courts deal twin blows to Hooda govt
November 14, 2013
For meaningful talks, respect India's views: Khurshid to Pak
November 13, 2013
CBI must work under govt: PM
November 12, 2013
Hooda pleases all at Gohana show
November 11, 2013
Apex court stays Gauhati HC verdict on CBI status
November 10, 2013
Govt to challenge HC order on CBI formation
November 9, 2013
Gauhati HC questions CBI validity
November 8, 2013