Snoopgate: Centre orders judicial probe
New Delhi, December 26


The Centre today instituted a Judicial Commission of Inquiry into physical and electronic surveillance against a woman allegedly involving Gujarat Chief Minister Narendra Modi. The Bharatiya Janata Party called the move "political vindictiveness" indicating it could be challenged in court.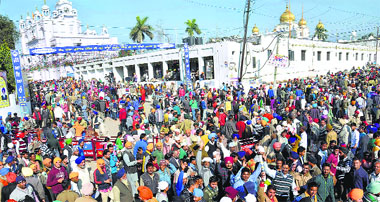 jor mela spirit:

Pilgrims at the Shaheedi Jor Mela in Fatehgarh Sahib on Thursday. Tribune Photo: Manoj Mahajan
Judges' appointment panel gets Constitutional status
New Delhi, December 26
Amid demands by jurists and the Opposition led by the BJP, the government today gave a go-ahead to grant constitutional status to a proposed commission for appointment and transfer of judges to the higher judiciary.
OTHER PAGES

HARYANA: FIR lodged against Rania MLA, others


HIMACHAL: HC bans polythene-packed edible items from Jan 26


CHANDIGARH: Now, Jain in FB 'likes' web


LUDHIANA: Violations go unchecked


DELHI: Cong protests 'tainted' ministers in Gujarat

OPINIONS: Unsafe in South Sudan


NATION: AAP's foreign funding under scanner; MHA to inspect party's accounts


SPORTS: India in cruise control mode

BUSINESS: Air India gets go-ahead to sell five Boeing planes

WORLD: B'desh police lay siege to Zia's house



Lahore Log

The tribune guide to best colleges

Budget
2013-14

INDIA CHINA WAR 50 YEAR LATER

EARLIER FEATURES
Punjab Govt takes PRTC for a ride
Bathinda, December 26
The Punjab Government, which has been using state-owned Pepsu Road Transport Corporation (PRTC) for various political errands, has failed to clear Rs 2.52 crore in dues towards the corporation thereby adding to the mounting losses that stand at Rs 150 crore.
Khobragade had full diplomatic immunity at time of arrest


New Delhi, December 26
In a new twist to the Devyani Khobragade case, New Delhi has claimed that the Indian diplomat was accredited as an "Adviser to the Permanent Mission of India to the United Nations" by the world body on August 26, 2013.
Icy winds sweep North India; Adampur shivers at -1.2° C
New Delhi, December 26
Large swathes of North India bore the brunt of a cold wave and icy winds as temperatures in several parts of the region breached the sub-zero level, with Leh in Jammu and Kashmir witnessing the coldest day of the season.
Another winter in tattered tents for Mirchpur victims
Hisar/Mirchpur, December 26
As Hisar shivered at 2.1°C on Thursday, five notches below normal, the battle for survival got tougher for the caste violence-affected Dalit families of Mirchpur village living in makeshift accommodation at a farmhouse near here. Among the worst sufferers are the elderly, children and infants.
Army orders court martial of 6 men in Machil encounter case
December 26, 2013
India, Pak DGMOs agree on new peace mechanism along border
December 25, 2013
Arvind Kejriwal to be Delhi CM
December 24, 2013
AAP all set to form govt in Delhi with Cong support
December 23, 2013
Kishenganga: India's right upheld
December 22, 2013
US adamant, not to drop charges against Devyani
December 21, 2013
Drop case against Devyani: India
December 20, 2013
Parliament clears historic Lokpal Bill
December 19, 2013
India downgrades US diplomats' privileges
December 18, 2013
Lt Governor recommends President's Rule in Delhi
December 17, 2013
Cong open to compromise on passage of Lokpal Bill
December 16, 2013