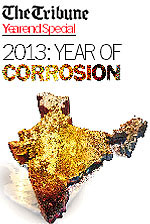 ASI killed in Sopore gun battle
Srinagar, January 7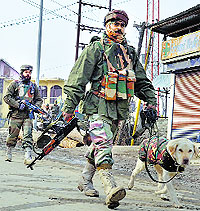 An Assistant Sub-Inspector (ASI) of the elite Special Operations Group (SOG) of the Jammu and Kashmir Police was killed and three others were injured in a gun battle at Sopore town in north Kashmir on Tuesday morning.

Security personnel at the encounter site in Sopore in Baramulla district on Tuesday. Tribune photo: Mohd Amin War

Devyani seeks delay in hearing
New York/Washington, January 7


Indian diplomat Devyani Khobragade has sought one-month extension of the deadline for charging her in the visa fraud case, but her plea has been opposed by the prosecution, even as the US today said it wants to resolve the "ordeal" as soon as possible.
3 injured in clash at Patna Sikh shrine
Patna, January 7
Three persons were injured today when two groups clashed over appointment of an 'outsider' as additional chief Granthi of the Takht Harmandir Saheb Sikh shrine in old Patna area, the police said.
OTHER PAGES

HARYANA: State to regulate street vendors


J&K: Renovation of Mubarak Mandi complex moves at snail's pace


HIMACHAL: Cong-BJP war of attrition intensifies


CHANDIGARH: 9-year-
old girl kidnapped in sedan at Panchkula


LUDHIANA: MC gives encroachers time till Feb 11


DELHI: AAP govt may lack knowledge, but intention is clear: Kejriwal

OPINIONS: Of masters and servants

BUSINESS: Curbs on gold imports to stay, says Economic Affairs Secy

SPORTS: Punjab won't give any quarter to J&K

WORLD: Global pressure mounts on B'desh PM for repoll


Lahore Log

The tribune guide to best colleges

Budget
2013-14

INDIA CHINA WAR 50 YEAR LATER

EARLIER FEATURES
US in deep freeze after Arctic blast
Washington, January 7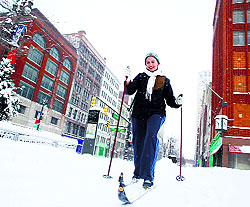 The coldest, most dangerous blast of polar air in decades has gripped the US Midwest and pushed toward the East and South and eastern Canada, closing schools and day care centres.
A woman skies to work through thick snow along Woodward Avenue in Detroit, Michigan, on Tuesday. AFP

High Court ties runaway couples in financial knot
Punjab & Haryana HC says grooms must prove they have money while seeking state protection
Chandigarh, January 7
Love is turning out to be an expensive affair for runaway couples seeking protection. For, the Punjab and Haryana High Court has made it clear to them that emotions are not enough for sustaining a relationship; and financial capabilities are required to be established by the groom while seeking protection.
Kashmiri expert to head Twitter unit
Srinagar, January 7


A young Kashmiri communication expert has been tasked to head a crucial unit in Twitter India where he will manage and track the micro-blogging website's relationship with government officials and politicians.
Raheel Khursheed

Can't be business as usual, India tells US
January 7, 2014

GSLV propels India into exclusive club
January 6, 2014

AAP's grand plan: To contest most LS seats
January 5, 2014

PM says no 3rd term for him, Rahul fit for top job
January 4, 2014

M'rashtra Govt partially accepts inquiry report on Adarsh scam
January 3, 2014
Govt scraps Agusta copter deal
January 2, 2014
After water, power sop for Delhiites
January 1, 2014
Kejriwal keeps free-water promise
December 31, 2013
Kejriwal: We'll deliver in 10 days
December 30, 2013
Kejriwal vows new working style
December 29, 2013