Bathinda protest hijacked by political leaders; impasse on
Bathinda, February 8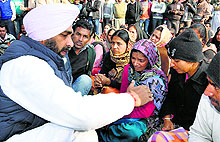 The impasse between the state government and the agitating teachers continued for the third day today as the parents of the dead infant refused to conduct the last rites.
PPP chief Manpreet Singh Badal consoles Kiranjit Kaur, mother of the dead infant, in Bathinda on Saturday. Tribune photo: Pawan Sharma



Doctors insist she died of malnutrition
Villagers join Ashutosh family's fast
Nurmahal, February 8
Residents of Lakhnaur village in Madhubani, Bihar, today joined the family of Ashutosh Maharaj, head of the Divya Jyoti Jagriti Sansthan (DJJS), in their indefinite fast that began yesterday. They are demanding that the godman's body be handed over to his family for the last rites.
Assam to Gujarat: A tale of two rallies
PM did nothing for N-E: Modi
Guwahati, February 8


BJP prime ministerial candidate Narendra Modi on Saturday fired a broadside at Prime Minister Dr Manmohan Singh for failing to usher in all-encompassing development in Assam and the North-East despite representing the region in Parliament.
BJP PM Narendra Modi at a rally in Guwahati on Saturday. PTI

OTHER PAGES

HARYANA: Students block highway over fees


HIMACHAL: Assembly gridlocked as BJP still in boycott mode


CHANDIGARH: Youth found dead in P'kula


LUDHIANA: MC plans 4 parking lots


DELHI: No need of construction approval on small plots: MCDs


NATION: Context, not isolated contents, will determine obscenity: SC


SPORTS: Ambush before the final assault

WORLD: UK minister quits for employing illegal worker



The tribune yearender 2013 : year of corrosion

Lahore Log

The tribune guide to best colleges

Budget
2013-14

INDIA CHINA WAR 50 YEAR LATER

EARLIER FEATURES

'Nido's death a national shame'

Rahul takes tea vendor jibe
Bardoli (Gujarat), February 8
Congress vice-president Rahul Gandhi on Saturday launched what was perhaps his fiercest attack so far against the BJP and its PM candidate Narendra Modi to reclaim the Sardar Patel legacy for his party.
Congress V-P Rahul Gandhi in Bardoli on Saturday. PTI

Molestation case: J-K court orders Shabir's arrest
Srinagar, February 8
A Srinagar court on Saturday issued arrest warrants against Congress leader and former state Health Minister Shabir Ahmad Khan, who has been booked for allegedly molesting a woman doctor.



Jammu police going soft on arrest?
ICC okays sweeping changes, puts Srini at helm
Singapore, February 8


The International cricket Council (ICC) on Saturday approved its radical reform plans aimed at bringing about improved governance, a move that will give India significant control over revenue and power structure of the world's governing body.
BCCI chief N Srinivasan will chair the ICC Board from mid-2014

Booked for molestation, J&K minister steps down
February 8, 2014
Kejri takes CWG swipe at Cong
February 7, 2014
Communal violence Bill, Telangana rock House
February 6, 2014
UK says it advised India on Bluestar
February 5, 2014
AAP asks Prez to act against Sheila over illegal colonies
February 4, 2014
Third Front move: Jaya, CPI join hands
February 3, 2014
Rawat takes over as Uttarakhand CM; 11 ministers retained
February 2, 2014
U'khand CM quits, Rawat top choice
February 1, 2014
Cap on subsidised LPG cylinders up from 9 to 12
January 31, 2014
SIT to probe '84 riots: Delhi Govt
January 30, 2014