2 infants hurt in incubator fire at Sriganganagar civil hospital
Abohar, February 10
Two infants suffered burns, one of them critically, and a male nurse felt unconscious in the ensuing rescue operation as 10 of the 15 incubators at the District Civil Hospital, Sriganganagar, perished in a fire today.

A view of the burnt nursery ward at the Sriganganagar civil hospital. A Tribune photograph

'Ex-driver' moves HC again, seeks Ashutosh's medical re-exam


Chandigarh, February 10
In yet another twist to the controversy shrouding Ashutosh Maharaj, his "ex-driver" Puran Singh today moved the Punjab and Haryana High Court again, seeking his medical examination.
Puran Singh, who claims to be Ashutosh Maharaj's 'driver'
IAS aspirants can make two more attempts now
New Delhi, February 10
Civil services aspirants have a reason to cheer. The government on Monday decided to give two additional attempts with consequential age relaxation to all categories of candidates of the prestigious exam conducted by Union Public Service Commission.


OTHER PAGES

HARYANA: Bringing factions together new PCC chief Tanwar's first priority


HIMACHAL: BJP legislators keep away from Budget debate


CHANDIGARH: Stir hits banking services

LUDHIANA: Bank strike cripples industry


DELHI: Register FIRs in DJB fraud cases: Govt


OPINIONS: Tainted officials out of IOA


SPORTS: Srinivasan, CSK on a sticky wicket

WORLD: Sushil Koirala elected Nepalese PM


The tribune yearender 2013 : year of corrosion

Lahore Log

The tribune guide to best colleges

Budget
2013-14

INDIA CHINA WAR 50 YEAR LATER

EARLIER FEATURES

EPFO chief, others in dock over rape bid
Panipat, February 10
Haryana cadre IAS officer Krishan Kumar Jalan, currently on deputation and posted as the Central Provident Fund Commissioner (CPFC) of the Employees' Provident Fund Organisation (EPFO), and some Karnal-based PF officials have been booked for allegedly making an attempt to rape a woman of Panipat.
molestation case
J-K ex-minister moves HC, fails to get relief
Srinagar, February 10


Former Health Minister Shabbir Ahmad Khan, who is in the dock over allegations of molestation levelled by a woman doctor, today failed to get any "interim or immediate" relief from the high court.
Shabbir Ahmad Khan
Kundi connection powers VIP helipad at Bathinda
Bathinda, February 10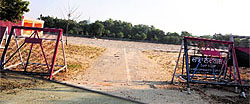 The helipad meant for VIPs in Bathinda district has a "kundi" connection to meet its power needs.
The helipad is situated close to CM Parkash Singh Badal's native village. A Tribune photograph

Foodgrain output set for new high: Pawar
February 10, 2014
AAP refuses to yield on Jan Lokpal Bill, slams Centre
February 9, 2014
Booked for molestation, J&K minister steps down
February 8, 2014
Kejri takes CWG swipe at Cong
February 7, 2014
Communal violence Bill, Telangana rock House
February 6, 2014
UK says it advised India on Bluestar
February 5, 2014
AAP asks Prez to act against Sheila over illegal colonies
February 4, 2014
Third Front move: Jaya, CPI join hands
February 3, 2014
Rawat takes over as Uttarakhand CM; 11 ministers retained
February 2, 2014
U'khand CM quits, Rawat top choice
February 1, 2014